Bloghopping
Friday, July 28, 2006
Bloghopping.
Following links from one blog to another, reading about the lives of people you have absolutely nothing to do with.

(www.urbandictionary.com)
I was spending some time on the web, nothing much to do this afternoon. I did a fair share of
bloghopping
and stumbled on an interesting blog
fosfor.se
. It collected a number of interesting blogs from all over the web. The following entries caught my eye.
So you think you know how to Photoshop, eh?
What part of the following picture is Photoshopped?
All of it. I couldn't believe it too! I have been using photoshop for some time now but I've never done anything this good. I thought the man was photoshopped onto the woman or something like that, but the artist Daniel Hammonds aka Wade/ Haujobb & Fairlight, did it from scratch. He shows a step to step tutorial of this piece named "Me and Louie's Sister" here:
www.wade.pwp.blueyonder.co.uk
When Drawings Fight Back
There are three more drawings in the site below but no mention of the name of the artist in this site or in fosfor.se (Please comment if you know the artist of these drawings).
www.duggmirror.com
Cartoon Characters Through an Xray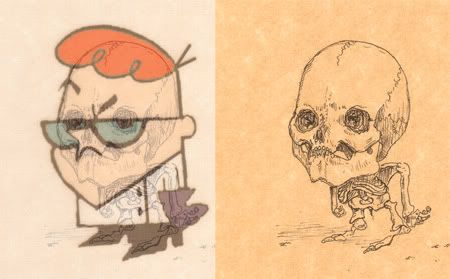 A fun collection of 22 cartoon characters in a collection called "Skeletal System". The artist's name is Michael Paulus, check out his website in the link below, the home page is one of the best ones I've seen yet.
michaelpaulus.com

There is something always something interesting happening in the world, and thanks to the web you could see it as fast as you can click your mouse.
Labels: bloghopping
|