Tap, tap, tap... Afternoon Nap
Friday, July 28, 2006
I had the worst (and ugliest) alarm clock this afternoon. I slept late last night planning stuff in my head. After lunch and a couple of shows, I felt my eyes beginning to feel heavy as I lay lazily on the living room couch. I haven't had an afternoon nap since college, a full 8 years ago. I was truly enjoying my siesta. Nearly catching sleep, a loud knock came from the window next to the main door. This fugly woman plus a couple were at the door when I opened it, They were looking for a room for rent. Not knowing the affairs of the apartments my mom, who went out, manages, I asked our housekeeper if we had any. Nope, she says, fully occupied. I returned to the door with the news, and this fugly woman still kept inquiring. What part of "none" didn't she understand. I nearly slammed the door to her face, I was absolutely not in the mood for nonsense, but the rules of propriety hadn't been quelled enough by my irritability. I just dismissed her politely and closed the door, saying nasty things under my breath.
It's one thing to be woken up by my bright red wind-up alarm clock, It's another to be woken by a fugly woman with bright red lipstick.
My friend TJ sent me an e-mail with caricatures of some celebrities. The drawings exaggerated certain physical attributes that have become anatomical signatures for these celebrities. I dunno where these drawings actually came from, I tried following the string of forwards this e-mail went through and found a dead end. (Extend my compliments to the artist if you know him/her) Below is one of Penelope Cruz and all I can think of when I looked at it was the woman who tapped on my nap.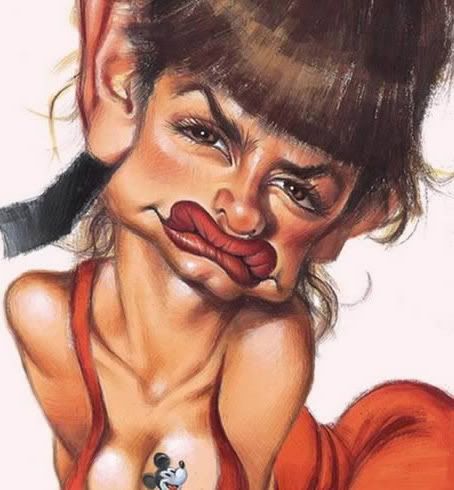 BTW, Does Miss Cruz actually have a Mickey Mouse tattoo on her bosom?
Labels: i-rate
|