Skating: On Thin Ice
Wednesday, August 16, 2006
I never liked Jessica Simpson. Celebrity divorc
e
es seem to gain insta-fame after the break-up. Jennifer Aniston post-Brannifer makes a zillion movies, Nicole Kidman sans psychotic- nearly- killed- Oprah Tom Cruise goes off to win an Academy award. Anyways, back to Jessica... I love her new video "A Public Affair". Not because of the disco throwback (ala Kylie Minogue), not because of the darling Christina Applegate... but because of the rollerskates!
Flashback: I remember the Burnham Park skating rink. Burnham is one of our major parks (like a less glamorous, smaller NYC Central Park). In grade school me and my siblings would skate tirelessly around that concrete rink. We did it without helmets, knee pads or elbow pads. I learned to skate on one of those metal skates that had leather straps. It didn't have shoes attached to it so you used the straps to attach the tetanus skates on your regular shoes... Those skates were heavy and extremely painful. It had protruding screw heads that left marks on your soles. I still have a scar on my knees from learning to skate.
In highschool, The skating rink was one of our main hang-outs. Baguio was so much better then, less people, lesss cars, less traffic, less pollution... We'd were casual clothes under our uniforms and it was straight to the rink after dismissal. It was the Saturday afternoon place-to-be then. That's where Boys' High (exclusive Catholic boys school) and Girls' High (exclusive Catholic girls school) converged. We'd skate until night, the rink had halogen flood lights. There was the occasional awesome skater who did twirls, axels and led caterpillars (The awesome skater skates backward and holds onto another skater, other skaters would hold onto the hips of the one infront of them creating a rolling Conga line and the awesome skater would lead us into zigs and zags and number 8's)
There were two other rinks then, both in Camp John Hay. An indoor skating rink (aerobics center on weekdays), It had wooden tongue and groove flooring that made you vibrate when you skated across the grain. There was also an outdoor skating rink at Scout Hill. (Baguio residents... I know you've been there)
Skating, unfortunately, has become obsolete here. The Burnham skating rink is now used for bikes and concerts (not done simultaneously... although that would be a fun idea) The Skating rinks at CJH are now demolished. They turned that once free-for-all recreational area into a semi-exclusive country club. Exclusivity sucks. Country clubs suck.
Teens now are too eager to grow up. If only they knew that that age is best experienced as teens. They rather go to bars than to "skating rinks". I can't stand bars with loud underaged kids.
What I'd give to have the skating rink back.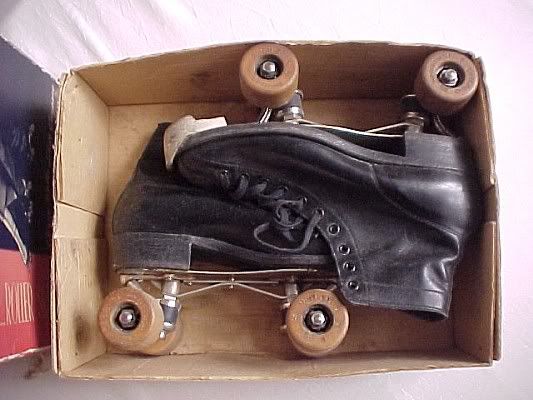 Labels: baguio, kids-r-i, music, quarterlife
|