Ten Ants, a Dog, a Cat, a Mouse and a Babel Fish
Tuesday, August 22, 2006
My first Tenant!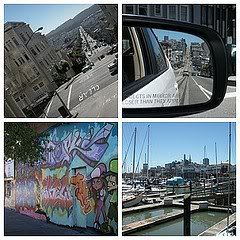 I have recently been looking into the feature of Blog Explosion. I see the "Rent My Blog" thing when I bloghop and I never fully understood what it meant. Until now. hehe.
I introduce Rhoda, my first tenant. Her blog is named Rho Rho's Flow. Rhoda writes about her life and experiences in California. I like her sense of humor and she takes great pictures! You feel California in all the pictures she attaches with her posts. Flow on over to Rho's blog by clicking on the thumbnail on the right sidebar (My Tenant)
Canines Can...
I was doing my daily blogroll. I was so amused by
Snglguy's post
about these adorable mendicant dogs. I'm gonna check them out next time I go down to Manila.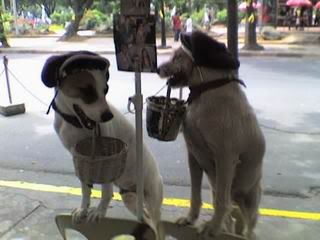 The post reminded me of an article I read a few weeks ago in the Daily Mail. Ratty the Jack Russell, five years old, had an unusual habit.
Twice a week he would trot out alone through the farm gates, jump on a number ten bus and head for his local, the Black Bull. The five-year-old dog would stay all day at the pub in York, where he had his own water dish and was fed his favourite sausages. He would even get a lift home at closing time from a friendly barmaid.
First begging dogs at SM Manila, now a bus-riding dog that goes to a pub, what's next? Dogs running for mayor? (although... non-literally, that has happened here in the PI)
Read about Ratty here...
Dog that Takes Itself to the Pub (on a No. 10 Bus)
The Game of Cat and Mouse
These items have been on my office desktop ever since I started but I never made that connection.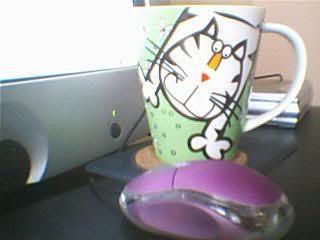 A Babel Fish!
I have never known anything about "Hitchhiker's Guide to the Galaxy" until about two weeks ago when my brother-in-law told me about
www.abandonia.com
. This web site has an archive of free downloadable games that have been abandoned (abandonia... get it? haha) DOS games. Abandoned in a sense that they aren't supported or being developed anymore.
The game is based on the homonymous sci-fi book by Douglas Adams. It is purely text! Like a "Choose-your-own-adventure-book" kinda game with limitless possibilities. It was super annoying at first but once I found out that my character in the game had a hangover and needed to drink a pill for him to function properly, I was hooked. This was a hit in 1984 and gamers then took weeks to finish this game. It took me just one night! ... and just one reliable walk-thru! haha. I was getting agitated with the game so I cheated. Oh well...
The Babel Fish in the game/book/movie is a small yellow fish you place in your ear and acts as a universal (literally!) translator. Altavista used it as the marketing logo for their webpage translator tool. (BTW... I didn't know Altavista is already a part of Yahoo!) To translate my blog, just click on the corresponding flag (right sidebar) and the Babel Fish does the work of translation. As to accuracy, I don't know how the translations rate... but it sure is one nifty tool.
Labels: BE tenant, bloghopping
|