Of Mouseholes and Mozzarella Cheese
Friday, August 25, 2006
Who drew the first mouse hole?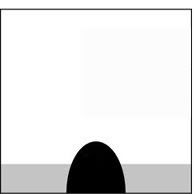 It's one of the simplest doodles but can be recognized universally (or at least that part of the world that have seen Tom and Jerry). Just an inverted "U". I'm thinking of who drew this and how much money he could have raked in if he patented it. Of course, actual mouse holes don't look like this. Mice teeth weren't designed to create such perfectly shaped doorways, and last time I checked, Mice haven't studied symmetry and Byzantine arches.
There are a lot more such images. Take the dog bone. When you see a drawing like this you immediately associate a dog bone. Bad example, cause it may not be anatomically proportional but it still resembles a chicken drumstick.
The heart! An even more recognizable icon. The person who drew the first heart would be ten times (I estimated...) richer than the mouse hole pioneer. Anyone can draw a heart, just two mirrored squiggly 3/4 S's. The real human heart however, doesn't look much it. You know what this means... time for another google search. Google is so convenient:
Google:
Wh
ere did t
he heart shape come from?
It came up with several pages but this, from
Yahoo! Answers
, caught my eye.
The "heart" shape could be considered to depict features of the human female body, such as the female's pubic mound or vulva. A Sumerian cuneiform symbol for "woman" closely resembles the heart shape, and is believed to directly depict the pubic mound. Others maintain that the heart resembles the shape of the female breasts or the female buttocks, especially when bent over in readiness for copulation from the rear.

Another possible origin can be seen on the coins of the ancient city of Cyrene, some of which depict the seeds or fruit of the now-extinct silphium plant. The seeds are distinctly heart-shaped. Since this plant was widely used as an ancient herbal contraceptive or abortifacient, this shape may have come to be associated with sexuality and love.
Two things. First, whoever said love and lust are two different things needs to contradict this argument... and second, I think a guy probably drew the first heart.
Pizza, the New Anti-depressant
I'm glad to report that Baguio has experienced two rainless days in a row. Woo hoo! A conversation on our way home from work (me and officemates):
John: Ang saya no? Di na umuulan.
Me: Huwag mo batiin!
Tine: Oo nga! baka mamiss ka...
John: Sige... (isip) Sana umulan bukas! (his attempt at reverse psychology)
Tine: Huwag mo ipagdasal!
John: Ano ngarud sasabihin ko?
Me and Tine: Wala.
Bert: Nagugutom ako.
Tine: Libre ka!
Me: Oo nga! Ala ako last time.
Bert: P 500 lang budget.
Me: Kanya kanya na kami drinks.
Tine: O bat tahimik ka John?
John: Madami ako atraso dyan eh.
Bert: Cge.
Tine: Ang cute ng guy na yun na nakaupo sa likod mo.
Me: (Lingon) Talikogenic.
John: Pinakawalan na nya si Sheryn.
Tine and I look at Bert... tahimik.
Me: Eh si... si...
John: Rhea.
Bert: Nag-iipon sana ako para sa kasal pero sya na bahala kung gusto nya mahal na kasal.
Me: Mga magkano ba magpakasal ngayon?
Tine: Mga 100,000.00
John: Talaga?
Tine: Pakasalan mo na! Mura lang magpa-annul... 80,000.00
Me: haha... mas mahal magpakasal. Go na Bert. 180,000.00 pesos!
Bert... tahimik
There were writings on the wall and this was placed right beside our table.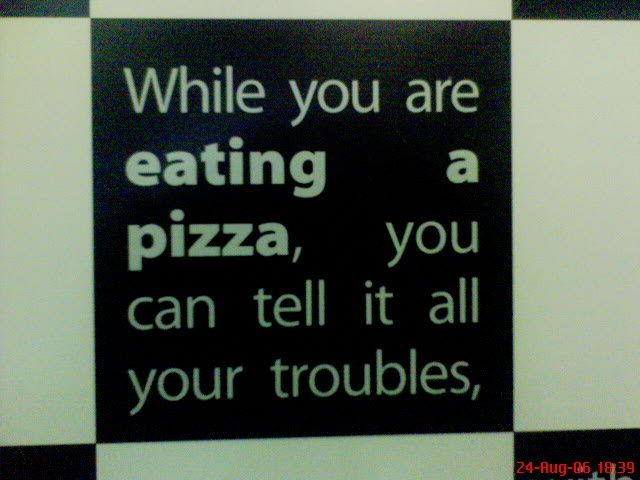 UPDATE: I Jinxed it. Right after I published this post... It frickin rained!
Labels: bloghopping, cafe, filipinowledge
|