Running with "Running with Scissors"
Monday, November 06, 2006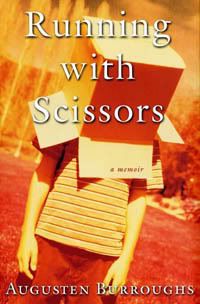 All Friday night well into Saturday morning, I was deeply engrossed in the twisted memoir of Augusten Burroughs. I was powerless to put the book down. From burlap lined hallways to masturbatoriums, from electroshock therapy machines to
Queen Helene Cholesterol
, from Bible dips to fortune telling with turds, from eating
McNuggets
to eating candle wax, from psychotic parents to sociopathic offspring... This is a pageturner.
I owe the discovery of
Running with Scissors
mainly to book lover extraordinaire,
Kat
. (Thanks, I had such a twistedly fabulous time reading it!)
A quote from Jules Renard in the first pages of the book sums it all up...
"Look for the ridiculous in everything and you will find it."
Although the "names and other identifying characteristics" of the people described in the book have been changed, this is an Augusten Burroughs autobiography... dark, twisty and uber hilarious.
Most of the stories he confides here border on preposterous. In
Toilet Bowl Readings
, one of my favorite chapters... Dr. Finch, his mother's beyond peculiar psychiatrist, discovers divination with feces. The chapter begins with Augusten and two of the Finch daughters, Natalie and Hope, gathered around a toilet bowl examining Dr. Finch's floating turd. The doctor was astounded by the way the tip of his turd was above water and pointing upwards (I was gagging, but I couldn't divert my eyes away from the pages) The Finches were undergoing some financial problems, so the doctor instantly took this as a "sign from God" that things will be turning around. The grossest part yet was Hope, as ordered by her dad, scooping the coiled feces with a spatula and setting it out in the front yard to dry. (hahaha) And they do not stop there... they continue to scoop daily #2's and set it on the front yard picnic table as a chronicle of "messages from heaven". Dr. Finch kept a journal (with turd illustrations) to grasp the "bigger picture". Things did change for the better... well relatively, Hope won a frozen turkey from a radio station contest and the doctor received $1000.00 from an insurance company. This divination with feces episode of the Finches finally ended when the doctor became constipated. He lost his "gift" after that. The story is sooo ludicrous, that it HAS to be true.
The cover of the book I bought had a "Now a Major Motion Picture" tag on it. My curiosity made me click on IMDB, one of my really used bookmarks, in an instant.
Ryan Murphy directed and wrote the screenplay of the movie. I have no idea who he was, as it turns out, he is the director of the Nip/Tuck series. I haven't seen an episode of that show yet (aside from the opening sequence with the twitching pinky)
Augusten will be played by an unknown (for me at least) young actor named Joseph Cross who had numerous TV roles.
Main cast with corresponding previous borderline psychotic roles:
Joseph Fiennes as Neil Bookman (Augusten's lover) His was the first name that caught my eye. What can I say, those Fiennes brothers sure are fine. He repeatedly bashed a guy's head using a phone booth door in

Killing Me Softly

.
Annette Bening as Deirdre Burroughs (Augusten's mom) She was amazing Carolyn in

American Beauty

. I absolutely adore her in that dining room scene...

"Then, I must be psychotic then! What

is this? Let's bring out the laugh-meter and see how loud it gets!"

Remember that scene in the take-out window?

"Smile! You're at Smiley's!"

Evan Rachel Wood as Natalie Finch (Augusten's bestfriend) I was actually thinking about her in that character while I read the book, especially so because of her role in

Thirteen

. Although, she does fit the role talent-wise, Natalie has issues with her weight, I dunno how they'll translate that into the movie.

Brian Cox as Dr. Finch. For me, he is one of those old actors you see everywhere and they are really good but you can't seem to remember their names (like that actor who played Saruman as opposed to Sir Ian Mckellen). He was in Troy, the 25th hour, Adaptation and the Bourne movies.
Alec Baldwin as Norman Burroughs (Augusten's Dad) The first crazy role of his I could think of is that chipper person he plays in

FRIENDS

(

I would like to take a mental picture! Click!

) Norman was often times just referred to in the book and has dialogue only when he and Deirdre fight, and he is drunk everytime he speaks.
Gwyneth Paltrow as Hope Finch (Natalie's older sister) I loved Gwyneth as Margot in

The Royal Tenenbaums

. That mink jacket was to die for.

Honorable Mention: Patrick Wilson as Michael Shephard. I can't for the life of me remember this character in the book! But I do remember Patrick Wilson in

Angels in America

.
There is an extreme amount of talent in this cast. However, books turned movies rarely live up to their expectations. I guess it's time for a bible dip ala Hope Finch. A bible dip is basically asking a question and then opening a bible to a random page, pointing your finger on that page and making sense out of the phrase/word you're pointing at in response to your question... only I'm gonna use
Running with Scissors
instead of a bible.
Here goes: Will the movie be as good as the book?
(point) ...stove...
huh?
I read the whole paragraph just to get a grasp of the context...
"Your father isn't going to kill me," my mother said, switching on the front burner of the

stove

, pulling a More from her pack, and leaning over to light it on the heating coil. "He'd rather suffocate me with his horribly oppressive manipulation and then wait for me to cut my own throat."

huh? I can't get how that relates to my question. "But,
Roll of the eyes
, What can you do?
Shrug
."
Winsome Gunning Art Walk
Oh, I've been a terrible lessor... I'm late introducing The Artist. She is my tenant for this week. She creates amazing paintings in her posts that are reminiscent of the art in
The Little Prince
. Do check out her blog at
Winsome Gunning Art Walk
. :)
Labels: BE tenant, Bookworms Anonymous, movies
|