13 Things to do While your Blog Loads
Friday, October 13, 2006
Guess what... I'm on dial-up again. I can't be certain why the connection is down again. After trying to connect this wi-fi-less situation with the supposed misfortune Friday the thirteenth brings... I've stopped guessing. It takes a great amount of patience (which I surprisingly possess) to blog under these conditions. I know now that I am certifiably hooked to blogging.
The small changes I did with my blog layout have decreased its loading time by 0.001 seconds on dial up. Joy...
While waiting for the status bar to lengthen one micrometer per minute, here's what I did:
1. Do the daily Yahoo! crossword (for 13:49 minutes) I'm getting pretty good at this, although I always get
emir
,
shah
and
imam
mixed up. Just 4 wrong letters (woo hoo!)... I have no idea who
20 across
is but I do know now what a
47 down
is. I've always wanted to meet a crossword puzzle maker, I find their job fascinating... How they make answers fit perfectly in a symmetrical 15 x 15 box. In
The Story of Us
, Michelle Pfeiffer made crosswords for a living and... coincidentally also starred in a movie with the same title as today's crossword.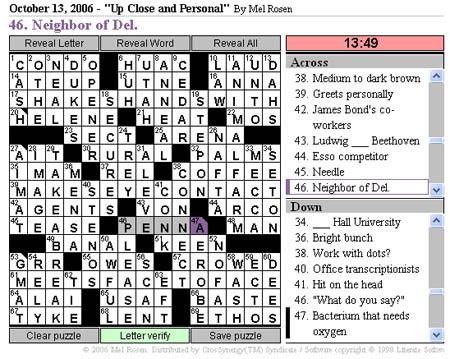 2. Smoke a Marlboro while waiting for 5 minutes for the printscreened image of the crossword to upload in Photobucket so that the
20 across
and
47 down
reference will make sense.
3. Eat a squashed fastfood peach mango pie retrieved from my now pastry smelling bag... an uneaten souvenir from dinner. AND air out bag.
4. Wrap my nephew's gift for tomorrow. (Two Tom and Jerry movies and a Justice League movie with a weird square jawed Superman) Then, place gift smack dab in the middle of the Christmas Tree, dropping a couple of ornaments in the process.
5. Replace bed sheets, moving the laptop extremely slowly making sure not to pull the phone line.
6. Stare blankly into the ceiling... thinking of an item for #6 but all you can think of are the blotches of god-knows-what on your ceiling that's shaped like the Big Dipper.
7. Marvel at the things you just bought this evening from a 3-day sale at the mall. You don't really need them... but they were on sale. Green knee-high football socks (I don't play football, I just thought they'd go well with the psychotic elf theme I'm planning to wear to a party)... Rainbow colored pony tails to coordinate with any possible outfit... etc.
8. Mentally spend the rest of your 15 day salary on things you want... Feeling completely satiated until you realize most of it will go to things you don't want... Bills, bills, bills.
9. Unload the contents of your bag... Fanning out the smell of fastfood. Discover you have 67 pesos worth of change, find your stylus that's been at large for 3 days (you were forced to use other blunt objects... pinky included, to act in its place), throw away 5 candy wrappers and remember you forgot something at the office.
10. Spend a sufficient amount of time thinking for a clever entry for #10 but all you end up doing is pumping vaporized tobacco to your lungs.
11. Realize (again) you're getting fat. So you start flailing your arms in supposed aerobic activity to
Mas Que Nada
. Realize (again) that you look like a moron. So you sit down again and make a mental promise to work-out tomorrow morning.
12. Forget the mental promise to work-out in the morning while you eat a Snickers bar.
13. Do a happy dance cause you squeezed in your 13 post for October with 3 minutes to spare.
Have a great weekend everyone! and Happy Thirteenth SV2G!
|