Oh my gawd! They killed Denny!
Monday, August 28, 2006
.. you bastards! (I can't do a Kyle and Stan impression to save my life)
Caution:
This is an extremely long and indulgent post... feel free to just scan the pictures.


I feel so emotionally drained. TV shows are scheduled just once a week for a reason, and I know now why. I have been watching season 2 of Grey's Anatomy for the past week (when I can) and last night, I was on the home stretch. I watched the last 8 episodes or so one after the other (don't try this at home) I usually do this when I'm reading a book I really like... I don't stop until there's nothing left to read (including blurbs)... a compulsion.
My initial curiousity for the show was instigated by three cast members: Ellen Pompeo, she played "damaged" so well in
Moonlight Mile
, Patrick Dempsey, who hasn't seen
With Honors
?, and the amazing Sandra Oh,
Sideways
. Season 1 was sooo frickin great, I
wanted
needed seconds. And thanks to viewers with TiVo and a certain P2P software (not AppleWire) I was able to
download
acquire the second season, which still isn't available on cable here in the third world. Studio 23 is still airing the first season here, but abroad they're already dishing out emmies for the second one. (Which unfortunately didn't win any...
luto
!)
Ferry Boats: A Primer
Grey's Anatomy is set in Seattle Grace Hospital. It is about the lives (synonimous to their work) of five surgical interns, their bosses, their patients and their complicated and intertwined lives. They have to handle their relationships with lovers, friends and family while trying to save lives, sometimes the lives of their lovers, friends and family, and always under an extreme amount of pressure.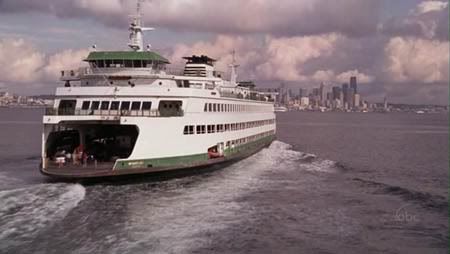 It's like a less eccentric
Ally Mcbeal
with a dash of
Sex and t
he City
with scrubs and a stethoscope.

The Seattle Grace Hospital Medical Staff
These aren't all of them, just the ones that matter. hehehe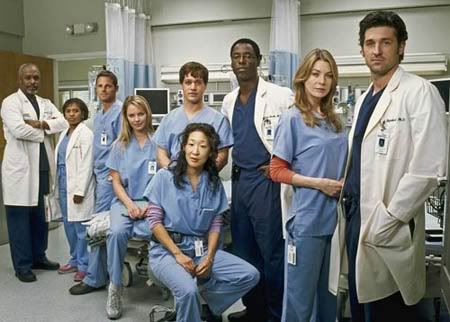 Pigeon-holing 101... From Left:
Dr. Richard Webber - the boss

Dr. Miranda Bailey - aka "the Nazi"
Dr. Alex Karev - intern, the bad boy
Dr. Izzie Stevens - intern, the model
Dr. George O'Malley - intern, the secret admirer
Dr. Christina Yang - intern, the A student
Dr. Preston Burke - the perfectionist
Dr. Meredith Grey - intern, the damaged girl
Dr. Derek Shepherd - aka Dr. McDreamy
Dr. Addison Shepherd (not in pic) - the adulterous wife

The Elevator
I never liked hospitals... the smell. However, I'd give anything to be a fly on the wall of the hospital's elevator or the stairwell, most of the juicy events in the development of the show's plot happen in these places.
(Yes, I am aware it is all fictional)
Seriously?... Seriously?!!
This show is not for the queasy. They have the most unusual cases but according to Shonda Rhimes, are based on actual medical cases. Take this one from a trainwreck.
They've had a fork stuck on Natalie Cole's (yes, the singer) neck, a mom who delivered quintuplets, a woman who had spontaneous orgasms, a man who was covered in ice to "kill" him temporarily in order to operate on him, a sort-of pregnant man and a woman with a record-breaking tumor. I now have some (and by some I mean, non-credible) knowledge on some diseases and medical procedures and equipment.

Fire in the Hole
This 2-part episode was nominated for writing. Guest star Christina Ricci, a paramedic, has her hand inside a man's chest cavity to stop the bleeding...
Little did she know that the hole in the man's chest was made by a bazooka (seems ridiculous, but never underestimate human stupidity) The unexploded shell is lodged in his chest, a sensitive bomb that could detonate with sudden movement.
Denny Duquette


The season finale... Denny. He has a failing heart. He is one of the most charming and charismatic character I've ever seen on TV... and that goes without saying that he is on his hospital bed. You can't help but love the guy... and you can't help but bawl your eyes out when he dies alone silently without even saying goodbye to Izzie, his doctor and fiance.
And Meredith's dilemma: McDreamy or McStable
I think it's pretty obvious I'm a Grey's Anatomy Junkie...
Seriously.
Labels: idiot box
|