Taxi Driver
Thursday, August 31, 2006
I have yet to gain the driving mojo. I've had driving lessons from an agency and from my brother (sa South Drive), I know that I know how to drive... It just seems like my hands, feet and eyes don't agree. I get all nervous and fidgety in front of the steering wheel. I hyperventilate everytime someone tries to overtake.


It's a good thing Baguio is crawling with ta
xis (sedans and FX's) But the weird thing is... You can never hail a cab when you really really (REALLY) need them. Like when its raining hard and you don't have an umbrella or when you're an hour late for w
ork. I guess it's just one of those ironies in life.

I've spent a lot of time in the back seat of a taxi. I can't afford them but my inherent tardiness and laziness force me to sacrifice some luxuries for this one... a personal white poloed chauffeur, and I'd like to think I'm helping the PUV industry. I've had my fair share of the west and worst cab drivers...

The Exact-Change Giver
Many taxi drivers here in Baguio give exact change to the centavo. One even ran out to chase a friend of mine from Manila when he forgot to get his change. He was so used to the "thank-you-no-change" policy. Baguio taxi drivers also, when you happen to hail them and find that they need to make a U-turn will only start the meter after they've made the turn. Refreshing...
The Acquaintance
I once rode in a taxi driven by a batchmate from highschool. We weren't really close, but I knew his face. Such instances make you juxtopose your life with someone else's.
The Storyteller
On a good day, I can tolerate a talkative taxi driver who talks about politics or policemen. I give the respectful nod or even engage in the conversation. On other days (more frequent), I'd rather he shut up. But some don't really need an audience when they speak. They continue with their soliloquy even if you don't respond. The passenger probably justifies their sanity and the need to talk from long hours on the road alone.
The Pepe Le Pew
You just know when you open a door that a cab ride is gonna be hell. Open all windows and stay behind the passenger seat.
The Interior Decorator
Every once in a while you get a taxi that's gone to the Taxi Accessory Store too often. They have too many rosaries and scapulars on their rear-view mirrors, a dog (or horse) with a bobbing head and the seven dwarves attached to their windshields.
The Disc Jock
Loud music, usually of the
perya
and novelty music variety. Also cabs with black lights (very shaggedelic) I even rode in a cab that had one of those digital displays you usually see in Jollibee that welcomes you with moving text (Welcome to Jollibee...) The cab's sign thingy was attached to the right of the rear-view mirror and said something like "I'm ____ I'll be your driver for today... Come Back Again) You want fries with that?
The Gas Station Advantage Card Holder
"Ok lang po kung daan tayo sandali sa (insert rich petrol company here)? Paubos na po gas ko eh" Of course the meter doesn't stop.
The Sidewinder
Hold on to your seats and seatbelts. This driver doesn't have brake pads... well, he does... but he doesn't want to use them. Helmet (and rosary) necessary for sharp curves.
The Texter
"Manong, pwede tumingin po kayo sa dinadaanan nyo? I'm sure makapaghihintay yung ka-text nyo..."
The Peeping Tom
Creepy eyes on the rear-view mirror. Don't look at them in the eyes, they are
like
dogs, they smell fear.
The Tourist
I've had the worst experience with a taxi driver that didn't know any (yes, NONE!) roads in Baguio. I assumed he was from La Union or something and decided to move his place of employment here. I had to give directions from Session Road to our home. My usual directions to a taxi driver when home is my destination do not go above 5 sentences/phrases. I felt like a tour guide with this one.
The Inquisitor
Me: "Manong... Scout Barrio"
Taxi Driver: "Upper or Lower"
Me: "Upper"
...
Me: "Manong, sa kaliwa po."
Taxi Driver: "Diba One way yan?"
(I live here for pete's sake!! wouldn't I know if that was a one-way street?)
Me: "Hindi po"
Taxi Driver: "Pag diniretso ko to, san ako lalabas?"
(try mo, report to me when you know already)
Me: "Dun din po sa island"
The "Must be Blind or Illiterate" Smoker
I have yet to take a picture of this elusive driver. He's like Bigfoot or the Loch Ness. I am a smoker so I don't mind a smoking driver as long as I'm allowed the same privileges. But this type of driver smokes without asking permission and does so with a giant red lettered "No Smoking" sign in front of him.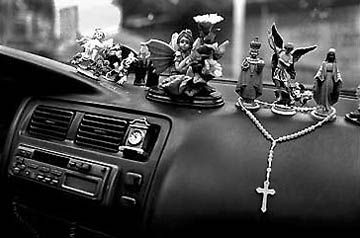 It's Baguio Day tomorrow! I (heart) my city.
Photo Credits:
Top Picture:
Taxi Sign
Middle Picture:
Baguio FX
Bottom Picture:
Sto. Nino on Dashboard
Labels: baguio, filipinowledge, list-o-rama
|