Baguio Day
Monday, September 04, 2006
Last Friday was International Sayote Day on my beloved plateau, a local holiday! My friends and I went on a sight-seeing roadtrip of Baguio using the tourist route. We planned the whole "in-the-shoes- of-a-non-Baguio-resident" trip last week. We didn't go as far as wearing the
turista
bonnets... the black (usually) ones with "BAGUIO" crocheted into the design or the ones with a wee sunflower smack dab in the middle of the forehead region.
Doo Bidoo and Scooby Doo
What better way to enjoy Baguio than in an un-airconditioned, freshly pimped, butter-colored Comby?! This is John's ride and we were its rowdy passengers.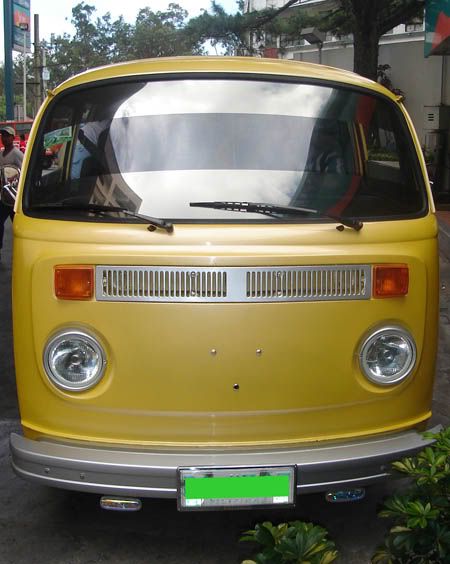 You can't help but feel elated when you see a Volkswagen van. Images of psychedelic rainbows, flowers and a peace sign of the hippie lifestyle come to mind (also, remember Fillmore from
Cars
?) Doo Bidoo! I'm also reminded of the mystery van of Shaggy, Scooby and company. Scooby Dooby Doo! Just good and fun mental images...
House of Flying Sidemirrors
The first destination that day was Asin Hotsprings. (Ok, technically this isn't part of Baguio... but it should be!) This is my second trip only to Asin, the first happened last May. How lame is that?
Huwag maging turista sa sariling bayan
(Don't become a tourist in your own country)
Asin is about 30 minutes away from Baguio. It is the nearest natural body of water (methinks) to the city. I think it's a general fact that Baguio residents get all agitated around the ocean. Being marine water deprived, on beach outings we're usually the first ones running toward the waves. Asin has hot springs but... I yet have to see one, all I ever see are pools.
Halfway to Asin, our public market kind of noiseness was disrupted by screams and a crash. I didn't have a good vantage point of the speeding jeep on our left but I did have front row tickets to the flying sidemirror of a van to our right. Imagine a two way road being occupied side by side by a maniacal jeep, a yellow Comby and a van with a parking violation... A couple of sidemmirrors were bound to fly.
What happened
: The road to Asin sloped down most of the time. We were the ones on the downward path. A van to our right and out of nowhere a jeep speeding toward us. We were the first to cover part of the van, but the apparently blind jeepney driver didn't agree with us. He kept speeding toward us emitting CO gases to our already thin Ozone layer. John had no choice but to veer right (hitting the van's sidemirror) to prevent a semi-head-on collision.
What we did
: We stopped for a second to collect our senses and drove away fast like fugitives. First of all, it was the effing jeep's fault. Second, the van was parked on the curb of a highway... and third, We were high on adrenaline.
What we agreed happened
: Everything happened as it was, except for the flying sidemirror which we didn't see because of sheer trauma.
Asin (no) Hot Springs and the Pesky Lifeguard
with the Picnic Umbrella
Palm Grove Resort did give us a great deal of solace. It wasn't what I expected, I wanted to see actual hot springs, but we're met by pristine chlorinated pools. But after the sidemirror incident, that didn't really matter.
Apparently, our eventful day wasn't over. We (well, just 2 of us) had to deal with a pesky lifeguard. After lunch and several accounts of the flying sidemirror, we were dipping our toes into the pool. It was raining, One of my favorite things... swimming when it's raining. I was only in the pool for five minutes when a lifeguard with a huge rainbow umbrella called my attention. He was asking me to change my top, which was made of cotton. The last time we were in Asin, although in a different resort, you were allowed to wear a cotton top as long as its white. As it turns out, they had stricter rules here.
Sure, I saw the signs that said that but I wanted to swim but didn't bring a nylon (or such) shirt. I gained weight and spandex didn't really flatter my figure. Hence, I was excommunicated from the pools. I sat by the poolside for a short time watching my friends play "Diving for the 25 centavo coin". When it started to get really cold, I had to retreat to our semi-enclosed hut with Dona. Anna met the same fate, but she was more persistent. She did do an outfit change and even tried to ignore-evade the lifeguard... but all in vain. We were both excommunicated.
Bring a nylon (or such) swimwear if you plan to go there, not doing so will make you smoke, drink softdrinks and eat junk food like crazy... not good for your body.
The trip back to Baguio was so fun. I felt like I was in the convertible of Thelma and Louise. We had to pass by the "crime scene" because that was the only route we knew. Paranoia was the general feeling. We'd make up conspiracy theories about all the people in Asin being in cahoots whenever people stared at our ride (Who wouldn't stare at a butter-yellow Comby?!)
Dona: Hala! Dito na yun! (This is where it happened!)
Tine and Ely: Hindi pa! Ala pa yung white na bridge! (No! I didn't see the long white bridge yet!)
Me and Joyce: Tapos na! Nalagpasan na natin! (We passed it already!)
John, intently driving... ignoring us
(More conspiracy stories)
Dona: Halaaaaaa!!!!
(Repeat all 20x)
Pusit, Turon and Sweet Corn
Mines View. The last time I was here, I was in high school acting as a disoriented tour guide for my cousins from Bulacan and Manila. The view changed... the mines aren't as they were, the mountains not as green, no more boys catching coins with baskets on long poles.
It however, still had the yummiest street food ever! Upon entry you feel hungry instantly because of the smell. We had our fill of grilled dried pusit,
turon
, and sweet corn.
What is

turon?
Being fed up with the usual camera angle tourists do when they go to Mines View (I know you have one...) I laid my camera down on the gazebo like structure and took our photo as an ant might see it. Our nostrils looked twice as big... but it is unique.
This Used to be My Playground
We still had a lot of places to visit in our itinerary but the night was upon us. We opted to spend the last amount of daylight in Camp John Hay. We had intended to have dinner at the commissary but the Mines View feast was still in our digestive system. Growing up near CJH, I had a lot of memories here. We found ourselves amidst swings and see-saws.
Scout Hill was especially close to my heart. As a kid, I nearly spent every Saturday here... It HAD nearly everything: a jungle gym, swings, see-saws, a skating rink, mini-golf, tennis, volleyball, an arcade, an ice cream parlor, mouth-watering large sized hamburgers, and wide open spaces. That was during the American occupation of CJH.
Filipino politics sure has a way of turning good things to shite. Under Filipino hands, the once free for all CJH, hub of recreation, nature walks and such has become a shitty exclusive club. Now, The tennis court is an unsightly bump car facility, the mini-golf course is brown and tetanus friendly, the volleyball court has been demolsihed to make way for the erection of multi-million dollar duplexes, the skating rink has been demolished to make way for the erection of multi-million dollar duplexes, the baseball field has been removed to make way for the erection of multi-million dollar duplexes.
Commerce over recreation. Money over nature. Pesos over everything else.
This is what's happening with most of Baguio now. Depressing... the prize of urban development. I'd like to say we should act now and save what we have left, that place, that building, this playground... but I know I only half mean it. To say it is one thing, to actually do it is another. So I just whine like everyone else... whine until its too late.
I do love my city... very much. I just don't know how to stop it from self-destructing.
Labels: baguio, boo-freakin-hoo, holidays, travels
|