arfaZ acisseJ
Wednesday, September 27, 2006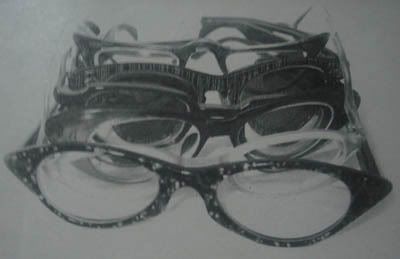 It was 1:37. I tried my darndest to apply eye drops without necessarily losing my eyesight. My hands were trembling. I always get panicky when I am late, which is almost every single time I go out. I almost always never wear a watch, I've always felt half handcuffed, literally and metaphorically to time.
I arrived at University of the Philippines-Baguio by 1:57. Farah was waiting on a bench in front of the guard house. I was 7 minutes late, a good record by my tardiness standards. We were off to the auditorium to attend Jessica Zafra's talk on
the pe
rsonal essay
. Two days ago, I was thinking of buddies to go to the talk with, and it dawned on me that I have only 4 friends who were bookworms, like I was. Fortunately Farah replied to my 1 am text message a day after. And so there we were looking for the auditorium. I have only been to UP Baguio twice, and both were exams... both I (thank God) passed. The UPCAT and the Real Estate Board Exams.
The
Bulwagan ni Juan Luna
was already 3/4's occupied when we found it. We spotted a table stacked with Jessica Zafra's books while we were registering as "guests". The audience was mainly UP college students. Although our youthful good looks could pass for a college student, I took comfort in the fact that I saw a handful of older people scattered across the auditorium.
Two emcees announced the "program" was about to start and the smell of brewed coffee wafted from behind. Three students kept changing seats infront of us and a couple of girls were chattering about an Aristotle book they were studying. I was startled when a distinct, crispy "fuck" bellowed from the microphone. The "program" started without me even knowing and the expletive came from a small girl with a ponytail. She was apparently introducing Miss Jessica, and all I could still think about is "Philosophy is the science of universal essence of that which is actual" which the alto-voiced philosophy student was uttering behind me.
The girl with the ponytail left the dais and before I knew it, two groups of students occupied the stage. It happened so suddenly, I thought they were a flash mob who would throw orange golf balls at us. The students took on some Madonna
V
ogue
sque poses and one after the other recited lines barely audible. After hearing some familiar Zafra lines, it was clear that this was some sort of tribute to Jessica using snippets from her
Twisted
books.
Jessica came to the stage and sarcastically (I think) thanked the performers for a
Fame
like welcome, which she admitted was a first for her. I was for a moment starstruck seeing the writer of some of the books I really loved in college, and still love right now. She quickly made the awe go away with her humor, such is her charm. Some of her columns are dark, some are far out, some are cynical, but all of them are always real. She did such a laid back talk about her writing process, her experiences and even read a section of her journal. What I like about her writing/talking is how she can write about anything and make it
Twisted
. She does so by pumping in her pensive observations of irony, her hilarious wit, occasional references to great works of literature & cinema, and an update of her "plan for worldwide domination".
The open forum weeded out those who actually read a Jessica Zafra book/ column/ blog entry from those who came there I am guessing because of a paper they were writing. A girl to my left frantically took notes while the rest of us were laughing at Jessica's "I'm not skeptical" comment. (Honey, skeptical is with a "k") Furthermore, some topics are common knowledge to a Jessica Zafra fan... like her views on marriage, why her articles are always in English, her 4 month career as manager of the
Eraserheads
, and the origin of her cats' names. I didn't ask the best questions either, I kept trying to think of witty (aka be-my-friend-I'm-smart-too) questions but I exhausted my brain trying so I settled for the following two questions:
What was the first book you read AND loved?
What is your favorite David Sedaris essay?
To the first question, Jessica answered "The Old Testament" which she read when she was 8 years old. She added that it is the most violent and bloody book ever written, whose literary cadences have been imitated in many great books.
The second question is a manifestation that I'm still not over Sedaris. Jessica answered that she loved the last essay he did for
The NewYorker
which is complimentary to
Me Talk Pretty...
There were a lot more interesting questions raised during the open forum usually related to her books, her writing process, her failed magazine
Flip
, her
Eraserhead
days,
Marat Safin
(one thing we have in common!),
Roger Federer
, her cats, etc. etc.
When the last question was asked and answered, the students started gathering around her like vultures to a limping springbuck. Camera phones, digital cameras... flash flash flash. I wanted to dive into the crowd and rescue Miss Zafra from unwanted human contact (after I have my pic taken with her...) I wanted to grab the megaphone a guy was using to announce a Tuition Fee Increase rally in order to announce: "Scram ignorant paparazzi!"
Outside, Jessica Zafra signed books. I bought mine a month ago and I was a little disappointed that books sold there were given a 15 pesos discount. However, I felt better looking at my obviously read books and comparing it with the crisp one the guy behind me was holding with a price tag still in place. A teacher tried to cut the line and Jessica admonished her saying there is a queue but gave in when the teacher pathetically pleaded she had a class. Jessica is nicer in person than in paper. I examined her ring, bracelets, watch and bag when she signed my books.
I was so thrilled her signatures where written backwards. I took an interest in this way back in high school after coming across a biography of Leonardo Da Vinci. (I instantly solved that clue in the Da Vinci Code) The boredom I experienced in Social Studies class is the main reason why the backs of my Cattleya notebooks had a million reversed cursive scripts of my name.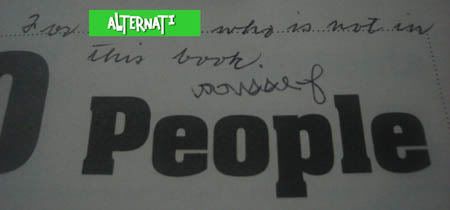 Jessica's latest book is
500 People You Meet in Hell
, an antithesis of the Mitch Albom novel. I didn't like this book as much as I like love love love the
Twisted
books. However, seeing what Jessica Zafra wrote, I'm keeping this book in my shelf of favorites.
Jessica Zafra Resources:
Old blog = Twisted (In this blog, Check out the 229 Comments in the second to the latest entry "Emotional Weather Report #4", Jessica went missing for a long while, and a lot of bloggers started making conspiracy theories as to where she went.
Podcast (Just one though) I noticed in her talk all her TV references were actors/shows from GMA 7 and I learned in this podcast why... hehe


Emotional Weather Report

. Jessica's column in the friday editions of

The Star

.

Her books are available in Powerbooks and National Bookstore

Labels: baguio, Bookworms Anonymous
|