Retail Therapy
Monday, November 27, 2006
I am sitting on my bed marveling at my recent purchases. Everybody knows the satisfaction of buying, the power of purchasing, the unparalleled pleasure of trading bills stamped with the faces of heroes and past presidents for things... especially things you don't really need, but want... and even more particularly when they are inexpensive.
I went to three evanescent bazaars this afternoon with my sis, brother-in-law, niece and nephew. The first is an annual Christmas Bazaar at the Brent International School. They raise money for some cause, I've been going to said yuletide sale for four years now and I'm still shady with the details... I come for the merchandise. Christmas tree skirts, gold tinted candlestick holders, reindeer cookie molds, elf outfits for toy poodles... Red, green and glitter all over, it's as if Santa and a couple of multi-sequined drag queens exploded in the auditorium. Technically, these aren't what drag my lazy ass here, it's the little knick knacks hidden among them. Last year I found a complete set of the Narnia Chronicles, which I read like an avid ten year old for the week that followed. This year, I hit the jackpot...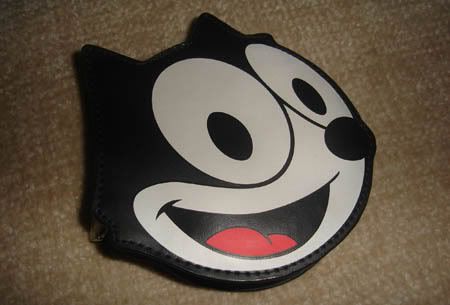 Felix the
Coin Purrs Purse
Retail Price: 70 pesos
Real Function: To hold change
Actual Function: To display my age whenever I draw the thing to draw change AND my penchant for monochrome felines. Hmm, hmm... Two birds with one stone! Me likey.
The next pit stop was a weekly sunday garage sale about 5 blocks away near this cool, relocated fifty's themed restaurant with waitresses on rollerskates. A lot of interesting stuff here as well, you just don't know what you'll see on the particular Sunday you go there. And I bought my very first...
Chicky Bank
Retail Price: 20 pesos (Beat that!)
Real Function: To hold savings in coin form
Actual Function: To have a delightful yellow ornament in my room that seems to have hydrocephalus. I know I'm not the only one hoarding 5 and 10 peso coins (I heard it was illegal or something) I've transferred the coins I have from their original container (a sunglass holder), and I've got the thing filled right under its bulbous head.
The last place was PEZA (formerly EPZA, and nope, I don't know the reason for the name change and pretty sure you don't even care... hehe) It's a clothing factory and weeks before the yuletide season they sell turtlenecks and 6 feet scarves and table napkins and what nots. I bought tube socks. *Yawn* Although they did sell some incredibly scrumptious "Chicken Nuggets". Not the frozen chicken fillets in sealed packages they sell in supermarkets, these are the streetfood variety. Basically, breaded chicken intestines. I just might convince a couple of friends to go back there just for them.
In the tri-colored pink (arguably mauve) car on the way back home, my nephew used a toy gun to shoot plunger like ammo that stick to the car windows, my niece bobbed her head feeling the pink dangling earrings swing on her lobes like pendulums, and I hold my coin purse of a washed-up monochrome cat and a ceramic chick with a head larger than its torso... I may be mistaken, but... I think I'm the adult.
Labels: baguio, blah (3x), kids-r-i, quarterlife
|