Caffeeklatsch
Saturday, September 23, 2006
Kaffeeklatsch
is literally "coffee chat" (in German). This is the type of casual convention, small talk and especially gossip enjoyed by housewives who meet in the afternoon for a cup of coffee.
Wikipedia
.
We weren't housewives, nor did we meet in the afternoon, nor did we have a cup of coffee, but Joanne and I did our fair share of Kaffeeklatsch-ing last night at
Caffeeklatsch
. The C to K first letter change is probably a copyright thing, according to
Wikimapia,
there are established
K
affeeklatsch coffee shops in Alabama and Chile.
I met my friend Joanne last night for dinner at
Pizza Volante
. (
Volante
is Italian for flying... nope, they didn't throw pizza at us when we ordered them) I haven't seen or talked with her in a year, so over Mussels in Red Sauce, Vegetarian Pizza and a couple of fruit shakes, we caught up with each other's misadventures. We went to
Caffeeklatsch
after.
Joanne and I share a special weird kind of friendship defined mainly by laughter and flatulence. We make fun of each other, at unknowing strangers and of anything as mundane as a weird looking lamp.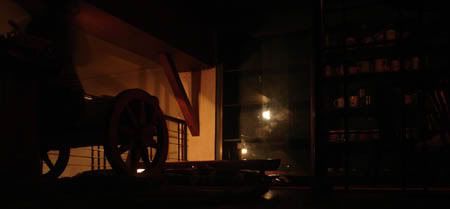 Klatsch Brewers
(I think, this is what I decoded from the vocalists words) played that night. They were a good acoustic ensemble reminiscent of MYMP, although with a male singer. I wouldn't be a band groupie, especially when they didn't know the songs I requested, but I wouldn't mind coming back to hear them play. I liked their renditions of
Stitches and Burns
(Fra Lippo Lippi),
Mahirap Magmahal ng Syota ng Iba
(Apo) and
You to Me are Everything
(The Real Thing)
Caffeeklatsch
is a unique establishment in terms of its interior. Studying for five years makes architecture graduates harsh critics of the buildings we visit. We'd give reviews of restaurants we frequent and shops we go to. The professional credo states that "I shall confine my criticisms and praises within constructive and inspirational limits", but I'm sure you'll criticize it too when you need to limbo when you enter a door or when climbing a staircase requires you to bend your knees at 90 degree angles.
The mezzanine low ceiling, approximately 5'-10" because my head nearly reaches the ceiling, the humongous beams, the trip-prone spiral staircases and the low-watt light fixtures are worthy of criticism, but in the case of
Caffeeklatsch
, it works. These elements add to the cluttered, cozy hominess of the coffee shop. It is like a hobbit bar. I love stylish clutter: mismatched chairs, an assortment of decorations and conversation pieces strewn here and there. There is always something to see and something to talk about.
Some things didn't escape the subdued critic in me though, the shaking mezzanine floor when someone walks and the weird shaped comfort rooms with low doors. But the good clearly outweighs the bad... Be sure you include a night spent
Caffeeklatsch
-ing when you visit my city.
|