Game Ka Na Bangs?
Saturday, September 16, 2006
This is a post about Kris Aquino...
turn back now.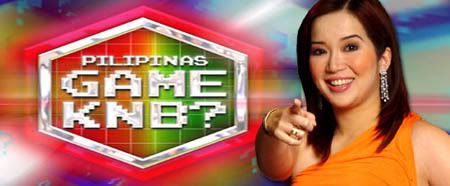 Game ka na ba?
Next to my family and friends, Kris Aquino is the only other person I see almost everyday. You can't seem to escape her when you tune into ABS-CBN. I associate her now with food. She throws random questions at us during lunch time at the office.
Abante Ako!
She also asks
Charmel
to open her briefcase during dinner.
Yes Banker?... (inaudible conversation)... Salamat.
The 2-million Briefcase
I can list two million reasons why I
hate
don't like Kris Aquino...
Her ridiculous nasal laugh...

hawhawhaw

Her obvious adoration (and imitation) of Oprah. Kris would often quote her or say something she's seen on Oprah and quickly add

"I love Oprah"

. She even has a

K Magazine

out ala Oprah's

O Magazine

.
Her short stint as the "massacre" queen of the film industry.
Her poor taste in married men. Philip Salvador, and that whole Joey Marquez with the gun thing a few years ago. I remember her interview about said incident at her home done by Korina Sanchez, I think. She was sans

San San

(available at

HBC

). She appeared virginal and a victim (which she was) with a black scrungy. But when she spoke (and emoted), it seemed like a clip from

Ipaglaban mo! (The Movie)

.

I tried to have it all! (watery eyed and a firm upright index finger)

Her

White Cat

TV ad. (Who folds laundry in a strapless white evening gown?)
Her inability to conceal her contempt for stupid (but most of the time just nervous) people. Kris would often give this are- you- dumb- or- something look on her face when a contestant in one of her game shows gives a lame answer to an obvious question.

Her version of

Oishi!

(with actions please)
Her vanity is unparalleled.
The thing is...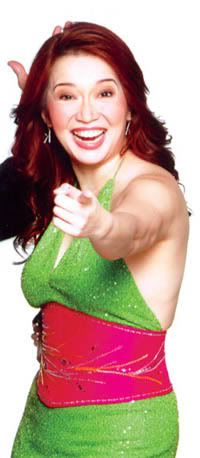 No matter how unlikeable Kris is, I genuinely like her. I have no idea why. You can hate her all you want and it doesn't affect her. You can mock her laughter or do a bogus impersonation of her
"Pilipinas, Game ka na ba?"
(with a pointed finger at the camera) or her
"Deal.. or no Deal!"
(thumbs up, then a sweeping motion of x-ed arms to the sides) and she'd merely say
"Imitation is the sincerest form of flattery"
to Boy Abunda followed by her signature laugh. You could lecture her on her absurd love affairs with married men, but she would vainly stick with her decision til the end or when someone points a gun at her. She may talk like a teenage girl on
Laguna Beach
, but she is surprisingly smart and witty. She may not be a good actress... (ok... there's no but here).
I may not have corroborating evidence, but
I like Kris Aquino
. (Did I just say that?)
What's that? Kris is running for senator in 2007? Kris, dahling, don't be a cliche. We (ok... I) like you as the infectious bustier-wearing game show host you are now, I'm sure the government has enough sons, daughters and relatives of previous presidents.
And BTW, bangs don't look good on you dear.
Labels: blah (3x), idiot box, list-o-rama
|