A Stitch... in Time
Sunday, September 17, 2006
This afternoon, I did something quite unnatural (for me). I mended... I mended a couple of bags with
Jamie Cullum
. Mending is a lost hobby of sorts.
It's been a while since I wielded a needle. The last thing I sewed was a watermill scene during the cross-stitch bandwagon of the late 90's. My attention span didn't allow me to finish it, but I did manage to complete some comprehensible reeds on the foreground. This reminds me of Lucia, a housekeeper we once had who took an interest in cross-stitching watching my sister make cherubs, square by square.
My sister gave Lucia a simple pattern to start with and gave her a quick cross-stitching 101 course. Lucia was happily pushing and pulling her needle and thread for an hour or so when she approached my sister with a predicament. (In tagalog)
"How do you sew a circle?"
... My sister gave a puzzled look and upon looking at the basketweave fabric she gave Lucia earlier, my sis gave a barely concealed chuckle. If you are familiar with cross-stitch patterns, each thread color is represented by a symbol on the tabled pattern. Apparently, Miss Lucia thought she had to stitch in the thread in the "style" of the symbols. She had a couple of X's in there... amidst yellow squares, red plus signs and I was marveled at how skillfully she stitched in an ampersand (&).

(End of flashback sequence)
Saliva on the tips of the thread is still a requirement for me to be able to put it through the eye. I never saw the necessity of a thimble so I had multiple needle pricks on my thumb. My stitching may be crooked, I may have broken a couple of needles and encountered a lot of knots, but I'm truly satisfied by the results.
I forgot to take "before" shots of the bags I mended, and I even contemplated ripping what I repaired just to do so but thought...
Screw it, I'm not gonna spend another umpteen hours to mend this again.
This bag's handle was torn because of my tendency to overload my bag with unnecessary baggage.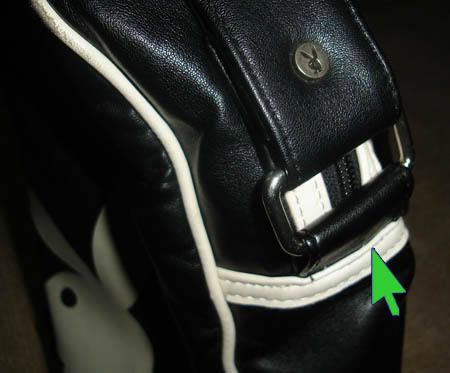 This garterized thingy that holds my laptop in place was also torn, not because of anything I did but because of poor craftsmanship.
Mending is surprisingly very rewarding. If I can mend a couple of bags then designing haute couture couldn't be THAT difficult, right?
Project Runway,
here I come...
Photo Credit:
Needle Eye
PS... I'm so psyched! Amazing Race 10 is gonna start tomorrow! (yey!)
PPS... Mau made it to the Top 12 of Philippine Idol
PPPS...
Chikka Minute:
Kris is pregnant.
PPPPS... Did I mention Amazing Race 10 is starting tomorrow? oh yes...
Addenda:
I almost forgot to greet my two officemates who celebrated their birthdays last 15th and 16th respectively:
Happy Birthday Vic!
(Pizza, pizza, pizza.. yum)
Happy Birthday Dona!
(Ansarap nung sugpo na niluto mo!!!)
Labels: blah (3x), boredomville
|