Amazing Races
Monday, September 18, 2006
The 10th season of
The
A
mazing Race
has the most culturally diverse line-up of teams to date. Most of the teams come from a minority group in the States. There is a Korean team, an African-American team, an Indian Team, a Moslem Team, and Caucasian teams from different sub-cultures in the US.
Survivor
, another CBS show, divided the survivors into four teams defined by ethnicity.
The Teams
I'm gonna do a bit of pigeonholing here. It is a lot easier to say "the dating prosthetist and amputee" than "the team with a girl who works as a motivational speaker that has been an amputee since childhood and wears a prosthetic leg prescribed by her triathlete partner, a clinical prosthetist, who has been her friend for six years and the two are currently dating."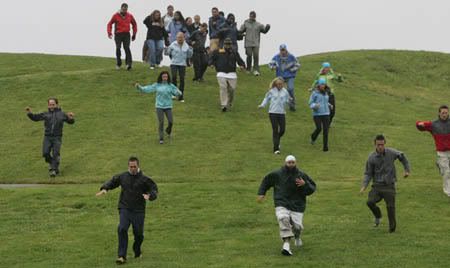 Bilal and

Sa'eed

- Moslem Bestfriends

David and Mary

- Coalminer and Wife (I'm remembering Zoolander a bit...)

Duke and Lauren

- Dad and Lesbian Daughter (If memory serves me correct, Lauren is the first lesbian to run the race)

Dustin and Candace

- Miss California and Miss New York (World Peace!)

Erwin and Godwi

n

- Korean Brothers

Kellie and Jamie

- Cheerleaders (Give me an A!)

Lyn and

Karlyn

- African-American Single Parents

Peter

and Sarah

- Dating Prosthetist and Amputee

Rob and Kimberly

- The Token Explosive Couple

Tom and Terry

- The Token Gay Couple

Tyler and James

- The Token Attractive Male Model Team

Vipul and Arti

- Married Indian-Americans
Needle to Wall with a Twist
The first leg of the race started in Seattle (Phil is on a ferryboat... Grey's Anatomy montage in my head) and ended in Beijing. True to Amazing Race fashion, the teams get off some identical vehicles as they are introduced, this season the transportation of choice... seaplanes. Phil did his speech yaddah yaddah... and says Go! Every season someone trips or slides in the first run to the bags. I was anticipating it with concentration... this season it was Tyler (or James?). They reach the Fords and the intro music starts.
Between that and scaling The Great Wall of China, they ate fish eyes, some paved an area with bricks, some did
Taiji Bailong
... of course some got lost, some bickered, some made frantic "faster, faster!" remarks to their taxi drivers and some kept looking for people who spoke English. A typical racing day. Oh and yes, a twist... Bilal and Sa'eed got eliminated in a non-pit stop. This was a foreboding.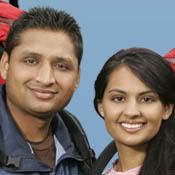 I was amazed at Sarah's (the amputee who looks like
Naomi Watts
) sheer determination in scaling The Great Wall. I am almost sure I heard the
Rocky
Theme play when she reached the top. The Indian couple, Vipul and Arti, aka "Team Karma" got eliminated. Too bad, I really liked them.
Early Picks
I didn't have an immediate favorite when the teams were introduced via VTR. I thought I'd like the Korean contingent, but aside from the squirt guns, they were a bit bland. Rob and Kimberly didn't fight as much as I would have wanted them to. Team Karma got booted early.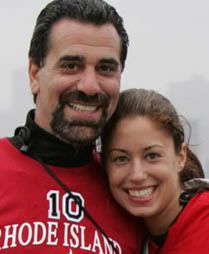 Of the teams, I like Duke and Lauren most. They were estranged when Lauren came out. Lauren looks a bit like
Claire Forlani
, an actress I really like. Us homosexuals need to stick together. I wanted to root for the gay couple but they wore a lot of orange and did a lot of chicken dancing. If I were to put my money on anyone though, I'd pick the male model team. Tyler (
Michael Vartan
's doppelganger) and James look like an Abercrombie & Fitch ad. Mesmerizing eyes and chiselled jaw lines aside, they look like a tough team. They are recovered drug addicts and anyone who can attain sobriety has got to have a great amount of inner strength. Ok, ok... looks was the major factor (shoot me).
TAR taught me:
Real friendships can blossom from a beauty pageant (I've always thought beauty queens are backstabbing vixens with perfect teeth... thanks to movies and that

Vertical Horizon

video of "

You're a God

"

Fish eyes are a delicacy in China.

Moslem men aren't allowed to shake hands with women (This is an observation and I'm not totally sure about the rigidity and coverage of this rule)

Handicapped passengers are pre-boarded on a plane.
Squirt guns are not allowed in airports (I dunno if this is an international rule, but seeing the extremely strict and obtrusive rules and regulations airports have now, I'm guessing it is)
There are female taxi drivers in China. (amazing!)
Ok I already know this, but for the benefit of others... "Thank you" in Mandarin Chinese is "

Xie Xie

" and "How are you?" is "

Ni Hao Ma?

"

Scaling The Great Wall of China, according to Karlyn, "can't be worse than child birth" (hahaha)

Seems like all my Monday posts are gonna be Amazing Race related for a few months. Bear with me... It is beyond an obsession.
Photo Credits:
All photos from
CBS
Labels: amazing race, idiot box
|