Gaping Generation Gap
Sunday, September 10, 2006
Yesterday evening, I met my married friends Rai and Cheerie. It was a pre-birthday celebration for both of them. Rai's is on the 11th of September, he was dancing and getting drunk when 9-11 happened. Cheerie's is on the 13th, and when she was pregnant with Asti, we all hoped he'd be born on the 12th but it was a gestative impossibility. The great thing about Rai and Cheerie is you never felt like a third wheel when you were in their company and we never ran out of things to talk about.
I was at their hotel room sometime around 9 in the evening. I haven't seen them for about a year, they live now in Manila, but still I felt like I just hung out with them yesterday. Bert arrived. After catching up with the latest things Asti did and work and whatnots, we were headed to Cactus Bar. Rai was a regular there during our college days. He was/is an amazing bassist. Think of the songs of
Kala
and you'll get not only a good idea of the music his band played but also of his personality.
Syd Barrett Would Rock and Roll in his Grave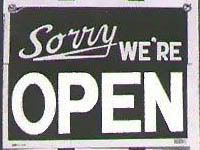 We were extremely disappointed by what the bar is now. It used to be one of the places-to-be, everyone dressed to kill, great local bands, beautiful people... beautiful music. Now, mediocre is an understatement. I haven't been checking out the local live-band scene lately, my friends and I now go for the bar with background music kind of scene. I guess its one of those growing-up things.
The other so-called happening places now are usually jammed with incoherently noisy gangster wannabes. I could appreciate, and even really like, some aspects of hip-hop culture like music, clothes and expensive jewelry (I am irked by people with no African-American heritage saying "bling"). However, the whole need for stabbing, unlicensed guns and a thirst for violence escapes me. I thought night outs are for good times and not visits to the hospital emergency room, I guess they changed definitions without me knowing.
Thankfully, Cactus Bar wasn't one of these places. It just became bland and boring. The torture did come, but in another form. The oily-haired, looks like he just came out of bed vocalist sang
Another Brick on the Wall
... terribly. This was an insult to Pink Floyd. I get the "image" he's trying (or not trying) to portray, but c'mon, take a bath for pete's sake. The greasy hair looked good on Ethan Hawke when he sang
I'm Nuthin
in
Reality Bites
, and you dear... are no Ethan. When the vocalist did Elvis'
Suspicious Minds
we paid the tab and left. How many songs must he murder?
A Hop, Skip and Jump
Across the street is 18BC, another buzz worthy bar during the golden era of barhopping aka our college days. It was a viable contender of Gimbals for the yuppie demographic then. Gimbals is now closed... a big loss *sigh*. It didn't seem as full as it did outside. We spent just a short while in the outdoor waiting area when a group of Koreans left. As we sat on the same red metal chairs, it felt like a time-loop... Nothing about the place changed. Well except maybe for the fact that the crowd was 50% Korean.
Koreans come to Baguio in droves! Mainly for a cheap English language education. Cheerie is an English tutor and we talked alot about the misadventures of the profession. How it all starts with a point-point teaching methodology, and later a
barok
type of English defined mainly by the use of nouns and verbs and the absence of prepositions and grammar. Bless these Koreans for giving us another source of employment. I find them a pleasant people always smiling and very fashion forward. I have yet to make a Korean friend to know what they are really like. All I know about them are the Koreanovelas I don't watch.

Space Flower and Access Band
Space flower is an amazing Ska band. Each band member, nine of them, wore suits and did something different with their head. One had dreads, another a semi-combed-over mohawk. One had a golfer's hat, another a fishing hat.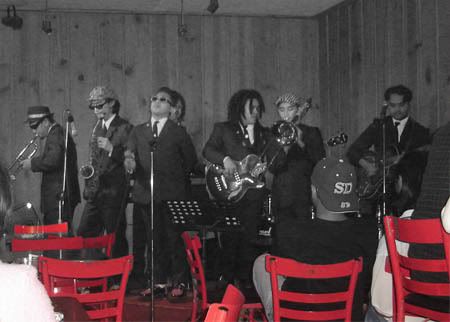 The vocalist looks like a chubbier Alan Cumming (fabulous shades included). As I've learned from a friend, any song can be Ska-ized(?). They did a couple of Bob Marley songs, some Frank Sinatra, some originals (really good), and some pop songs. When they did
Lady is a Tramp
, Cheerie and I wanted to get ur hair done and "dress to the nines" and use phrases like "I do declare".
Access Band is as much a staple in our bar scenes before as beer was. That night they did their memorable renditions of
Half Crazy, Universe
and
Bongga Ka Day!
.
We were so glad we changed bars. We left while Space Flower played Putre-ska's
Manila Girl
appropriately changed to
Manila Boy
to match the vocalist's gender. And on the other side of the road on our way to the hotel, we heard another ghastly rendition of a rock classic at Cactus.
Chasing Cars
On my taxi ride home, a dog out of nowhere was chasing us. I've always seen this strange canine behavior on TV but I never actually saw one. He chased us the whole length of Legarda Road. It made me think that a dog chasing a car was much like a generation gap. You hear about it but never really know what it is until it chases the taxi you're in. My mental juxtoposition of the bar scenes during my bar-hopping days and the current one made me realize I'm old(er). However, thanks to 18BC I'm comforted that the spirit of my bar era is still in a way, alive.
I hummed Snow Patrol's
Chasing Cars
in my head as I watched the BMW infront of us with its top down. I felt like I was in a 007 chase sequence and I was a back seat passenger in the villain's car.

18 BC Bands:
Space Flower Friendster Page
Access Band Friendster Page
Oh yes, before I forget. I was tagged by
J
. I'm gonna make this long post even longer!
6 Random facts about me:
1. I
answer
try Yahoo! crosswords everyday.
2. I hate the beans they put in halo-halo.
3. The first novel I read is
The Prince of Tides
.
4. The one I'm reading now is David Sedaris'
Me Talk Pretty One Day
.
5. I have a Spice Girls cassette tape. (don't ask)
6. My left hand is
rapas. (
a straight line running across my palm)
This tag ends here. I saw this meme on a lot of my regular reads already. Breathe a sigh of relief fellow bloggers...
|