A Fork in the Road
Tuesday, January 30, 2007
It is frEEEEzing here in Baguio the past two days. Anyways...
-------

Which of these have you watched?
Sweet Seymour Skinner's Baadasssss Song
Bart: I thought I'd be jumping for joy the day Skinner got fired. Now all I have is this weird hot feeling in the back of my head.
Lisa: That's guilt. You feel guilty because your stunt wound up costing a man his job.
Bart: I guess it is guilt.
(Useless Trivia: In the opening sequence of this episode, Bart writes: "I will not celebrate meaningless milestones")
The One with the Triplets
Chandler: So, uh, now that little Chandler turned out to be a girl, what are they gonna name her?
Phoebe: They're gonna call her Chandler.
Chandler: That's kind of a masculine name, don't you think?
Phoebe: Works on
you
.
(Useless Trivia: The other two babies' names are Leslie and Frank Jr, Jr (not a typo. :P )
3 Sing
Fantasia:
Chain of Fools, Fool In Love, The Greatest Love of All
Diana:
Ain't No Mountain High Enough, Because You Love Me, Don't Cry Out Loud
Jasmine:
Saving All My Love For You, Mr. Melody, All By Myself
(Need I remind all y'all who got booted the following episode? (who should've been axed earlier?))
What the...? Part I
Survivor: Pearl Islands. Return of the outcasts. The best twist the show offered.
(Useless Trivia: Sandra Diaz-Twine won this season)

It's Not Over Until Phil Sings
The Amazing Racers break bottles over each others heads at the sound of a cuckoo clock in Munich. All this to get the next clue. BJ and Tyler eventually won this season.
(Useless Trivia: The detour was called "Break it or Slap it")
Ch-Ch-Changes
Grissom: I thought you'd want to know what happened to Wendy.
Mimosa: I appreciate you telling me. Killed by someone in our community. As is we don't have enough enemies. Her parents never understood her, but still I think they should know. What do I say?
Grissom: Show them an oyster.
Mimosa: I'm sorry?
Grissom: There are two types of male oysters, and one of them can change genders at will. And before man crawled out of the muck, maybe he had the same option. Maybe originally we were supposed to be able to switch genders, and being born with just one sex... is a mutation
(Useless Trivia: Kate Walsh, Dr. Addison of
Grey's Anatomy
, plays Mimosa)
Centennial Charmed
Phoebe: Cole?
Paige: I'm telling you, he's gone for good.
Phoebe: Yeah, that's what we thought last time.
Piper: And the time before that.
Paige: This time is different. He straddled two worlds just like I did, but he wasn't invincible there. Cole's not coming back ever.
Piper: It just feels far too easy. I don't know how I feel about that.
Paige: I think you should feel good about it, you know? We don't have to look over our shoulder's anymore. It's over.
Phoebe: (picking up a photo of her and Cole) I guess it just wasn't meant to be.
Piper: Let's go.
Paige: Happy Birthday, Cole.
The Gift
Buffy Ann Summers
1981-2001
Devoted Sister
Beloved Friend
She Saved The World...
A Lot


There's Only One Sydney Bristow
Will gets abducted. Sydner ends her maternal leave prematurely to join her posse to do some old school espionage. T minus five (episodes) until series finale.
One Hundred Tears
Ally Mcbeal: I feel like I've known you forever.
Havrvey Hall: Ally, I'm not dying. I mean, I might be. But not today
(Ally talking to a man she was defending who believed he can fly)
SCORES:
0
- Have you seen a TV?
1 - 4
- Not Bad... not bad at all
5 - 8
- Close, but no cigar.
9 - 10
- Welcome to the couch potato club, I am your sponsor.
(Ok, ok... I am being biased with the 90's to 2000 TV watching generations)

And what, you say, is the point of this post? The 100th episode usually entails a shift in the direction of a TV show, some for the worse... some for the better. These are the 100th episodes of some of my the shows I watch/ed like a friggin stalker. (the list is a lot longer but there's only so much TV I can blog about) Some of the other shows I really like ended just before they reached the milestone (Sex and the City, Ed) and some are yet to reach this fork in the road.
I just did.
Ok, ok... juxtaposing a free blog with a multi-million dollar TV series is a tad ambitious... But I am (most times)
If you haven't caught my drift yet... this is my 100th post.
Woo Hoo!
I will not celebrate meaningless milestones

I will not celebrate meaningless milestones

I will not celebrate meaningless milestones

I will not celebrate meaningless mi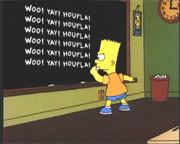 --------

My favorite Bard's 100th Sonnet
Where art thou, Muse, that thou forget'st so long
To speak of that which gives thee all thy might?
Spend'st thou thy fury on some worthless song,
Darkening thy power to lend base subjects light?
Return, forgetful Muse, and straight redeem
In gentle numbers time so idly spent;
Sing to the ear that doth thy lays esteem
And gives thy pen both skill and argument.
Rise, resty Muse, my love's sweet face survey,
If Time have any wrinkle graven there;
If any, be a satire to decay,
And make Time's spoils despised every where.
Give my love fame faster than Time wastes life;
So thou prevent'st his scythe and crooked knife.
|