13 Places to See (aka Sagada 02)
Saturday, January 13, 2007
When my 13th post meets my second post on Sagada. Brace yourself for an even longer post...

Something in the air in Sagada made a nocturnal like me retire way before midnight and rouse before a two digit AM time. I guess the anticipation of seeing the sites of Sagada help a lot in awakening even the worst of sleepy heads. Here are 13 places you must visit when in Sagada.
1. The Sagada Municipal Hall
Okey, this isn't really an exciting start, more of a necessity primarily because of the Sagada Tourist Info Center. This is where you can find guides for all the tourist destinations (see: caves) It's best to drop by the Municipal Hall when you arrive, so you can inquire to your heart's extent. You'll also have to pay a very minimal environmental fee (less than 10 pesos per person) I wonder how such a miniscule amount can contribute to ecological purposes...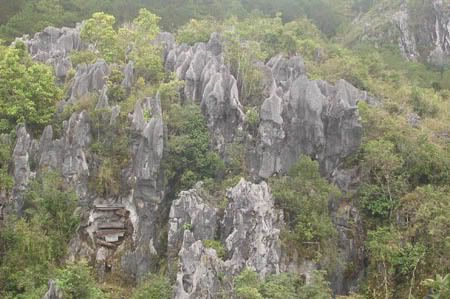 2. The Sugong Coffins
One of the cliffs with "hanging coffins", a local burial (ok the term doesn't apply) tradition. You can see the wooden coffins on the lower left side of the rock face. Our immediate question was "how?" and the locals didn't really give us clear cut answers so we formulated a procedure involving catapults and harnesses. And of course the next question is "why?", like all great human traditions, the answer to such a question is often hazy and subjective, but it's this ambiguity that makes such traditions great.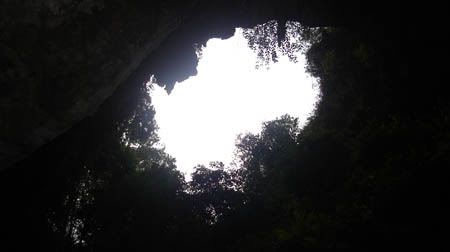 3. The Sumaging Caves
This is one of the three main caves in Sagada discovered (according to a rock along the entry path) in 1966. I have only been to one other cave in my lifetime, and it's liliputian compared to this one. A guide is required to enter the caves and I promise you... you will need them. Our guides were Raffy and Tots. If your guides are/were/will be as great as these two, you won't feel an ounce of claustrophobia, you'll always have a lit path and "Romeo and Juliet" (stalagmites) will hold a whole new meaning.
Us at the King's Curtains.
The inside of the Sumaging is
almost
otherworldly. It's how I would have imagined Moria pre-orc/balrog occupation... I developed a kinship with Gimli.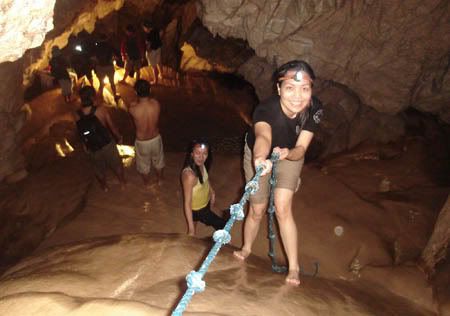 Ems scaling a knotted rope, other tourists in the background
There is a junction halfway through the cave with imaginary signs: "Hard --->" and "<--- Easy". Of course we took the hard route, we never doing anything half-assed. We had to hold on to ropes, crawl thru guano and limbo under stalactites... we were shrieking the whole way through, I think our guides developed ear infections. We had to wade in really cold (and I mean polar bear cold) water, and our guides were so great, they placed our cameras in their bags and held them with such skill, the bags not only never touched water but the guides did it with a cigarette in one hand... hahaha. You gotta give the six of us, who don't work out at all, credit for accomplishing such a feat. Although I must say, the notion of working out did, for a moment, appeal to me when a couple of 10 year olds overtook me on the hike up.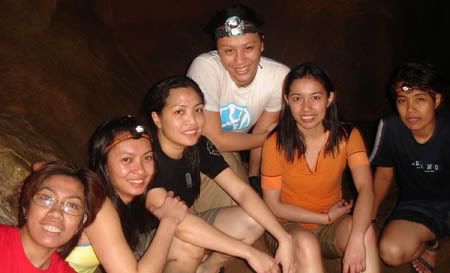 This is us on a pitstop to the cave entry. It never occurred to me until I was hiking and gasping for air that every step (or misstep) I take toward the heart of the cave is every step I have to make out of it... uphill! But aching muscles aside, it was worth the trip.
Guide rates: 1 - 3 persons = 300 pesos; 4 - 5 = 400 pesos; 6 = 600 pesos... I didn't really see the rates for more people, these rates available at the Municipal Hall
The Gates of
Moria
Sumaging Caves close at 5 pm.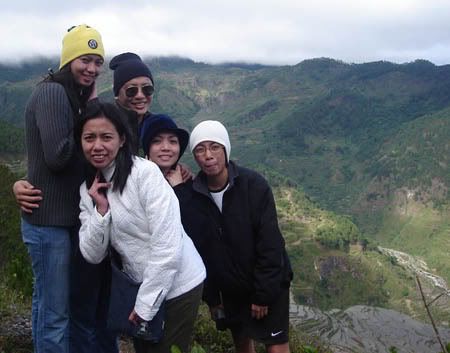 4. Mount Kiltepan
I'm not really good with estimating kilometer long distances, so let's just say Mt. Kiltepan is a tad far from the town center. You could take a leisurely hike to the apex through berry bearing bushes, but if you and uphill walks don't mesh well, like us, you can hire a local jeep at negotiable prices. From the top of Kiltepan the view of the rice terraces is undescribable.
5. Rice Terraces
All together... "
Magtanim ay di biro...
" I wanna see them during harvest time.
6. Big Falls
Locally called "
Bomod-ok
". All we saw of the big falls is the top (upper right) Our driver/tourist guide, Dexter, told us it's a 1 hour 45 minute hike downhill (and 3 Jupiter years uphill)... I know, we were such pansies. Then, more than ever did I wish I could move mountains telekinetically.

7. Small Falls
Locally called "
Bokkong
". Since we didn't see the Big one, we settled for the small one, which is only 15 minutes downhill (why is everything downhill?) It may not be as tall as a skyscraper but we loved it nonetheless.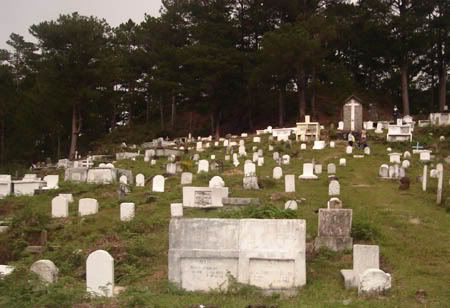 8. Campo Santo
The Sagada Cemetery.
Ferdz
blogged about a tradition of burning bonfires instead of candles during All Saints' Day. His post
here
.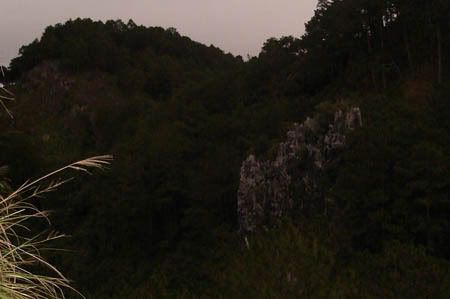 9. Echo Valley
Just a short walk from Campo Santo. It really does echo (especially if you use words that rhyme with "you") More hanging coffins can be seen on the cliffs here.
10. Church of St. Mary the Virgin
The shot is pretty dark... the church is very near the Municipal Hall. Inside, the rose window looks like a miniature of the one in Notre Dame de Paris.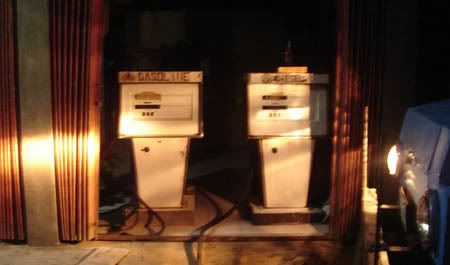 11. The local Caltex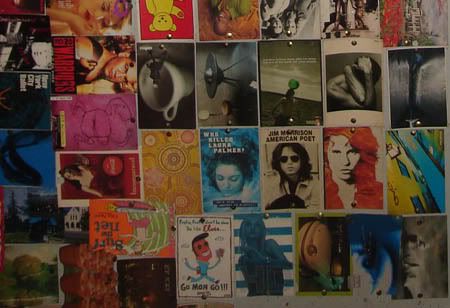 12. The Bilig Cafe
It's located right behind the Municipal Hall. We were really planning to eat at the Shamrock cafe whose spaghetti is raved about in Baguio, but ut sort of relocated here while the cafe is being renovated. Inside Bilig, look up. I've never seen such a wide collection of vintage postcards on a ceiling before. Jim Morrison, Jimi Hendrix, Kurt Cobain... I love it, my neck just felt stiff afterwards.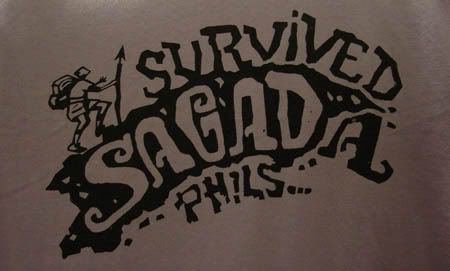 13. Souvenir Shops
I got all sorts of souvenirs but this printed shirt above is my fave.
|