Sagada 01 - Living Under On A Rock
Wednesday, January 10, 2007
We finally got the new improved WiFi service at home. I have a whole new appreciation for the ionosphere and how it allows us to use it as a a wave-bouncing mechanism (yes, that's my technical term) Gawd I missed surfing at this speed. I was living under a rock, literally, when the Taiwan earthquake occured so I never knew about the whole subterranean thingy until i got back to the office, days later. What better way to celebrate the return to the internet speed of sound mind than to upload pictures in Photobucket. Light years reduced to light reading while they upload.
---------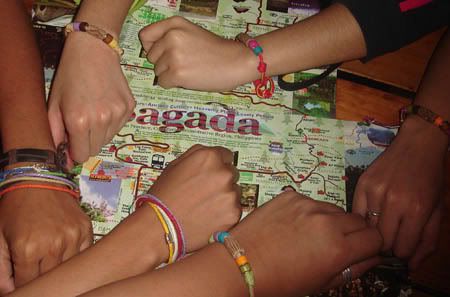 Brace yourself for a long post

---------

It was midnight and I was stuffing clothes in my supposed Amazing Race backpack. I always pack better under pressure, plus the caffeine from the hot peppermint coffee I had with some friends an hour earlier was still in my system. 6 hours later and no sleep, I was with my fellow spelunkers in an ordinary bus leaving the station for Sagada. (Let me blabber on some more while the pictures load on your browser... I did my best to minimize the number of pics) Sagada is in the Mountain Province and is about 5 and a half hours away from Baguio (approximately 11 hours from Manila) There are no air-conditioned buses to Sagada but with the cool weather, it would just be downright ridiculous not to mention ozone-unfriendly.
That's me on the right clad in my idea of a Sagada tourist outfit and that's Tine on the left, a close friend/ officemate. Notice our matching Sayote colored tops. I felt adamant about posting pictures on the net because of that hilarious forwarded e-mail of a kid whose face was plastered onto this and that. (Don't you get any ideas, I know where you live and if I see my face on a Teletubby, you'll find me knocking on your door with a broad sword)
The first two thirds of the road to Sagada is paved with concrete. It always amazes me how roads are built along mountainsides and how such a feat is accomplished. People with altophobia should opt for the aisle seat, let's just say the sensation of being on the window seat is like being a jumper who glides sideways around the edge of a skyscraper. The last third of the road, somewhere in a low point of the route where the road is side by side with the Chico river, is a bot more arduous. "Rough road" is an understatement. It's like headbanging in a mosh pit without hearing the Sex Pistols. There is also a constant plume of yellowish dust that follows, and at times enters, the bus. I just loved that last third of the ride, it felt like I was riding with Thelma and Louise without the swan dive off the cliff.
Breathtaking huh? A landscape that fuses form and function.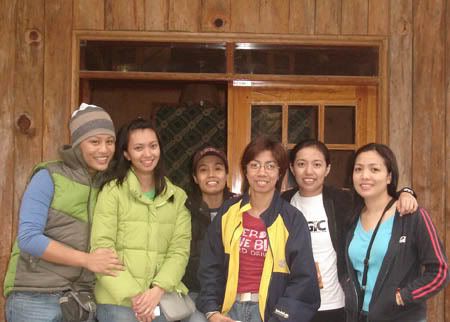 Me, Tine, Itang, Chibe, Fio and Ems


The Rock Inn. I highly recommend a stay here when you visit Sagada. It is 2 or 3 kilometers from the Poblacion (town proper) depending on which sign you look at. It is nestled in a valley accessed only by yet another rough road. It is so desolate that when you look out from any of their balconies all you see are the silhoutte of the surrounding trees and the stars. No Globe cellphone signal in these parts, just Smart (which I detest) The rooms smell great, all the surfaces (walls, floor, ceiling) and the furniture in the rooms are made of pine... the genuine smell of pine, not the fake scented tree cut-outs in cars (like the one on the rearview mirror of the Ocean's 11 SWAT van) The picture above is taken from a natural rock formation (hence the name of the inn) An orchard of Sagada oranges on the right.
View from our room, a couple of huts and the Dap-ay where there's a bonfire every night. The first night we sat around the fire as a German, a Filipina and a Swede (I think) talked about politics... we didn't linger too long. The second night we went all kumbaya singing classic early 90's rock songs with an infectious, guitar-strumming pothead. I wasn't able to score a joint. Boo hoo.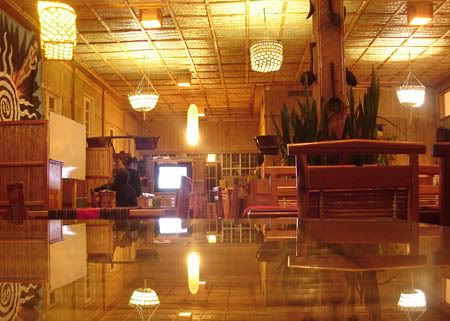 The Cafe Bodega. The Rock Inn's cafe. Modern use of indigenous materials. Notice the use of cribs and vegetable containers as lighting fixtures.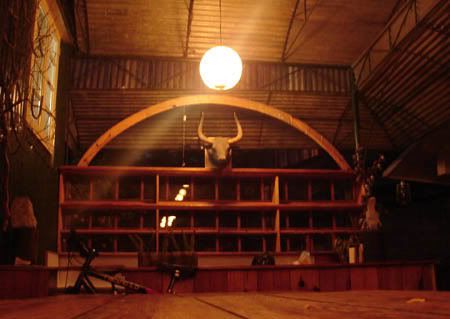 Outdoor dining area of Cafe Bodega.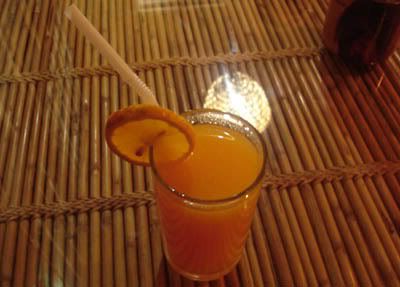 One must, must, must... must, must try their fresh Sagada orange juice... Mmmmm... Sagada orange juice (Did I sound Homer enough?) I am salivating just thinking about it. The perfect balance of tang and sweetness, and the best thing is it's 100% organic fresh from the orchard.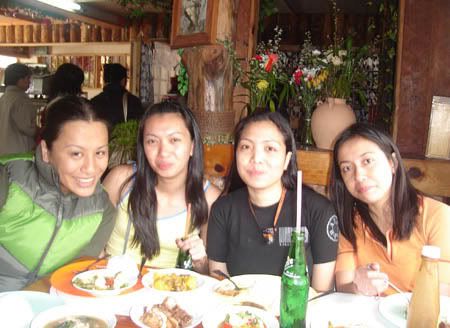 Since we're on the topic of food, eat lunch at Masferre Restaurant. The menu isn't especially Sagada (What's a
Sprite
bottle doing there??) but Masferre's photos lining the walls are worth the trip. He's the first photographer to take pictures of Sagada and his photos ooze of history. Taking pictures of his pictures isn't aloud.
And desert at the Yoghurt House. Try the granola one... (60 pesos or so)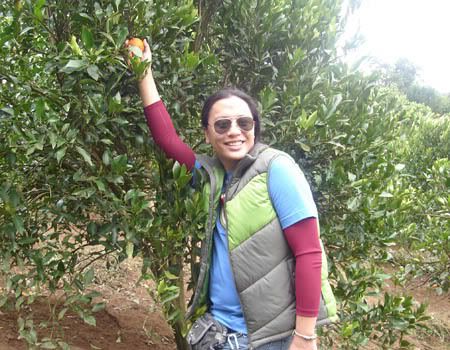 I told you I love em oranges so much I had to take some home. At 35 pesos a kilo, it was more than a steal. I'll show the pics of the caves and the other spots we visited in the next post. This one is long enough as it is.
---------

If you're planning to go there:
The Rock Inn and Cafe
Address : Rock Farm, Batalao, Sagada, Mt. Province, Philippines
Phone : Bang - 0920-9095899 (A really charming and helpful young man)
Fely - 0920-9028608
E-mail : rockfarm_sagada@yahoo.com
Rooms good for 6 and 8 @ 300 pesos per head per night (cheap huh? even cheaper during lean season I hear) The rooms are very spacious but don't have individual CR's. A common one at the end of the hall. No hot water from the faucet, but you can request for a bucket of really hot water for 40 pesos. Meals (heavy) average at less than 200 pesos. They provide a free service to and from the town proper. If you need anything, ask for charming Wanda or helpful Bang. And no, the dried leaves they sell at the souvenir shop ain't pot it's mounatin tea leaves.
(With all these free promotion, I better get a free room when I go back there!)
Labels: filipinowledge, travels
|