13 Dinner Guests
Wednesday, December 13, 2006
I have concocted my ideal
Noche Buena
(Christmas Eve Dinner) I'm not talking about the feast itself, cooking isn't my strong suit, I'll leave that to my dad who is excellent at it. My forte is picking a diverse, interesting, may be fictional but still relatively plausible guest list. Look at me looking forward to Christmas dinner, they may be hope for me yet...
Imagine having dinner with:
Linus van Pelt
Every dinner requires a great philosopher clutching a blue blanket. Linus is mine. How could you not invite the person who coined "security blanket" and realistically dreams of being the 47th person on the moon? His explanation of the true meaning of Christmas (quoting
Luke 2:8-14
) to Charlie Brown and his posse made him my instant Dalai Lama the moment I saw that TV special, of course I was too young then to know what a Dalai Lama was. We will be serving alcohol during dinner, don't worry... Linus may appear like a perpetual preschooler, but he loves
Johnny Walker
on the rocks... after all, he's about 54 years old.
Kevin McCallister
Linus although relatively wise for his age, requires the company of a kid to keep him from getting restless. 8 year old Kevin is the perfect candidate. The
Home Alone
movies (the first two at least) was as much a staple of my childhood Christmases as a plastic tree. His classic pose, an homage to Munch's Scream, will be a very effective ice-breaker. Also, his Machiavellian inventions will make sure our dinner would be "Wet Bandit"-free, and if burglars do dare to enter, more enjoyment for us as we watch middle-aged men getting burned and whacked in the oh so most sensitive places.
Jack Skellington
My Christmas dinner wouldn't be complete without the Pumpkin King of Halloweentown. I will be all starstruck around him. First of all, he baptized the "lobster red creature" known to us as Santa, "Sandy Claws", I am awed by his wit. Second, I've always been mesmerized by stop motion films... great films like this require massive stockpiles of passion and patience and meticulous attention to detail. It is art in the finest sense of the word. And most importantly, he knows Tim Burton. One of my favorite people in the world. I am devising ways to steer the conversation into having him relate firsthand his attempt to take over Christmas... I can't wait!
Max
I'm pretty sure Jack Skellington will bring Zero, his phantom dog. Max would be an ideal companion since I don't think many of us speak "dog". The Grinch is a very private person who detests company. The fact that he likes (sort of) the company of his dog Max speaks volumes about Max in the likeability department. Max can pull a sleigh holding both the Grinch and all the stolen Who-ville Christmas paraphernalia all by himself. For this reason alone, I'm lifting the no-dog-in-the-house directive. Come on... look at Max' smile... he is sooo adorable.
Mr. Hankey
"Howdy-Ho!" I hope Kyle wouldn't mind if I steal Mr. Hankey this Christmas Eve. Mr. Hankey is a denizen of the
Southpark
sewers. Yes, he is a coil of human feces, but us believers like to call him "The Christmas Poo". I don't mind eating my dinner beside a steaming pile of scat, and anyone who gags and shows the slightest amount of repulsion in Mr. Hankey's company would be free to leave the table... and the premises of my city. My guests are lucky I didn't invite his wife Autumn (also feces) and their three kids (all feces as well and one has a peanut for a head)
Crumpet
David Sedaris, one of my favorite writers, once worked as a Christmas elf in
Macy's
. He recounted his stay there in
Santaland Diaries
(Holidays on Ice) Crumpet was his chosen elf name. His experiences in that wonderland of sparkling lights, fake snow and mechanical penguins were so dementedly amusing, it made me wish we had a
Macy's
store in Baguio, or more feasibly that I lived in New York. I highly recommend
Holidays on Ice
for holiday reading, I am having mine signed when Mr. Sedaris knocks on my front door... Joy!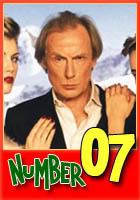 Billy Mack
I can never get through most activities without a proper soundtrack. Enter
fictional
rock legend, Billy Mack. I wouldn't mind hearing his "festering turd of a record" (his words not mine) after dinner. It is "Love is all around" (Wet Wet Wet song) but with all "love" lyrics altered to "Christmas"... Genius... I know. I usually cringe at the idea of watching Hugh Grant movies (Stop throwing those cliches around mister caught-with-your-pants-down) but I watched
Love Actually
... and, get this...
liked
loved it. I guess the numerous characters diluted Grant's cheesiness. Why can't he be more like dreamy Colin Firth. *faint*
Josephine March
There can never be enough writers on my dinner table. "Little Woman" Jo March is one of the first feminists I've ever known. The period clothing may be a bit off in my gathering but I invited her for three reasons: One, she looks uncannily like Winona-freakin-Rider! Two, Anyone who is willing to sell their hair for her family is a hero in my book... and Three, She turned down Laurie! Laurie is Christian-freakin-Bale for pete's sake! Gawd.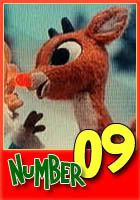 Rudolph
"...the red-nosed reindeer, had a very..." (Shoot me now) There will be no carolling on this table! I personally believe Rudolph is the first gay character on film. Literally doe-eyed, a graceful trot, inability to play basketball, and a flamboyant nose... I rest my case. Heshe (yes, there are debates about hisher gender) is a pioneering beacon of androgony and individuality against adversity. The Rudolphs of the world are just like you, only with shiny red noses. Rudolph... "You'll go down in history"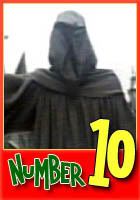 The Ghost of Christmas Yet to Come
Okay, TGOCYTC (such a typeful) may not be much of a conversationalist... He prefers to just point at things. At first I wondered if he would feel out of place in my generally chatty guest list and what interesting thing he could possibly offer. Then I remembered he was a clairvoyant of sorts. After dinner, I am unsure if he eats or even has an esophagus... anyways, after dinner, he can take all of us into our own Christmas Dream journeys. Now that is something entirely unique eh? And I had him sign a contract never to do that whole name on a tombstone prank he did on Scrooge.
Buddy
Enter entertainment. Will Ferrell... err Buddy will bring the Christmas cheer to the dinner. Of course what he doesn't know is we all (including Rudolph) mock him behind his back. The perfect thing is, he is so oblivious, no one gets hurt. Win Win. Buddy will probably have inside elf jokes with Crumpet although the whole Gimbels-Macys rivalry might come in play. If for anything else, Buddy's Spaghetti with M&Ms and syrup entree would be a conversation piece.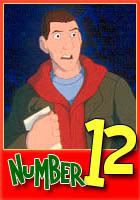 Davey Stone
There can never be enough
Saturday Night Live
alumni on my dinner table. Davey, the "cartoonized" version of Adam Sandler would be my insight into Chanukah. A celebration I am very curious of but totally ignorant about. Plus, Adam Sandler in my house? forgeddaboutit... okay the closest I can probably get to Mr. Adam Sandler is my non-existent acquuaintance with Rob Schneider, he has family here in Baguio. Go
Midland Courier
.
Mrs. Claus
I guess it's time for the dame to leave the solitude of the North Pole during Christmas Eve. When santa is away, the mrs. will play (No Limit Texas hold'em with me and my guests after dinner) She is more elusive than Big Foot. No picture of her has ever been taken yet, the Big Foot slipped up already. I like to think of Mrs. Claus as shown in the picture, I won't believe a woman of her stature would wear matching outfits with her beau. Mrs. Claus has requested that all paparazzi steer clear of my house.
Quite a guest list, don't you think? I'm gonna start picking napkin rings and centerpieces tomorrow.
|