Un Deux Trois
Sunday, September 24, 2006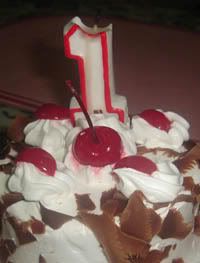 Un:
It was dear Vianca's first birthday celebration last night. She is the adorable daughter of my officemate. She is extremely ticklish and would give a four-toothed smile whenever you touched her armpits or her knees.
I've been googling for over thirty minutes now searching for any idea when memory starts. One said 3, one said before birth... I have no idea what happened on my first birthday except for what I can piece out from old polaroid family pictures.
Deux:
Oh joy! I found two of David Sedaris books! After getting hooked on
Me Talk Pretty One Day
, I was a crazy National Bookstore patron asking a couple of salesladies for an inventory or Sedaris' books. They need to apply the Dewey decimal system or fix their classification system or something. First the biographical essays were placed in the Fiction section, and second I had to supervise as one of the ladies looked for the books in a shelf clearly devoted to John Grisham and another shelf/shrine for Paulo Coelho. I knew I had to step up and find the books myself... which I did... eventually.
Trois:
I went pirated DVD shopping the other night with Joanne before we headed for Caffeeklatsch. I was looking for
A Scanner Darkly
, which I am pretty sure won't be aired in any Philippine cinema. They had one but I was disappointed when it was a
sine
copy not a
DVD
copy yet.
While we were scanning the movies like vinyl records, a Korean girl popped her head between Joanne and I asking the vendor for "Koreotology?"... I gave Joanne a quizzical look. She mouthed "Korea novela!"... I shook my head and mouthed "Choreography!"... The vendor without even an ounce of doubt told the Korean girl "We don't have
Coyote Ugly
." When the Korean left...
Aahhhh
...
Marunong pala kayo mag-korean ate
...
I bought three CDs that night and decided to do a semi-movie marathon when I got home from Vianca's birthday.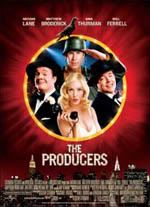 The Producers
Blah... I wasted 75 bucks on this. After really liking
Rent
, I thought I'd give another Broadway musical a go. They must have done something different with the musical for it to be a hit.
Max Bialystock (Nathan Lane) is a producer of a flop musical and Leo Bloom (Matthew Broderick) is an accountant. The whole premise of the story is that producing a flop can make more money than a hit if an accountant would tweak the books. The Producers was written by Mel Brooks, he is the voice of Bugs Bunny and several other Looney Tunes.
(Erratum: Thanks snglguy... It was Mel Blanc who provided the voice of Bugs Bunny... hahaha... my bad!)
Most of the characters were overly satirical although I think they were written and made to be performed that way. The songs were too cabaret for my taste and made me remember that aspect of musicals that I don't particularly like. I can't get Timon (
The Lion King
) when Nathan Lane performed and Matthew Broderick's character is all too similar with Peter Macnicol's role as Renfield in
Dracula: Dead and Loving It
(coincidentally another Mel Brooks movie) Uma Thurman as Ulla and Will Ferrel as Franz Liebkind were good (not great) supporting roles. The best performances of the movie were done by the even more sardonic minor characters like an assistant who prolongs "
yesssss
" awkwardly. If you're gonna go sardonic... do it to the nth.
I like the cinematography though reminiscent of Fred Astaire or Audrey Hepburn movies. I especially like the dance Ulla and Bloom did in the freshly painted white office. I didn't know Matthew Broderick can sing and dance. And I loved Uma's gracefulness in the green dress, especially when she slid across the table. I guess the training she did for the
Kill Bill
movies came in helpful. Movie not recommended for non-musical fans.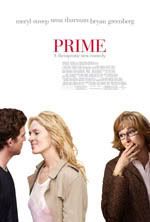 Prime
This movie looks into an older woman-younger man relationship, which is normally subjected to a double standard of morality. I thought it would be similar to
The Graduate
, but Uma doesn't look a day over 30. Rafi (Uma Thurman) is a 37 year old divorcee who meets David (Bryan Greenberg) a 23 year old artist, both in the
Prime
of their sexuality. Meryl Streep, who is as usual spectacular, is Lisa, Rafi's psychiatrist and early in the movie revealed as David's mom.
I watched the movie generally from Meryl's point of view, a spectator of Rafi and David's relationship. Meryl quickly deciphered from her sessions with Uma that she is dating her son, and its refreshing the movie didn't stretch this "twist" when it was already evident.
The best performances of the movie were done by the two female roles in Meryl's office. It's hilarious how Meryl struggles with her role to her patient and her role as a mom. How she conceals her emotions when Uma divulge's intimate details about her sex life with David. (
Rafi: You let me talk about his penis?, Lisa: Trust me, that was harder for me than it was for you
) Bryan Greenberg was physically a perfect fit for the role but he lacked a certain something I can't quite put my finger on.
As opposed to
The Producers
, the supporting roles were bland and only delivered lines for the main characters to develop their characters on. Except maybe for Jon Abrahams who is David's obnoxious friend that threw pies at his ex-dates and
Bubi
whose head panslapping is David's image of a conscience.
The movie was good until it reached the final 10 minutes or so when everything got ambiguous, the whole gift thing at the end seemed like Ben Younger didn't know how to end the movie and it didn't fit with the "one year later" segment at the end, which I think was written before the later half of the movie.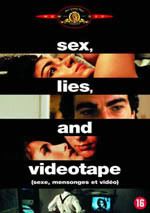 Sex, Lies and Videotape
It was 3 am when I finished
Prime
, so I put off watching this movie thinking I couldn't appreciate it as much as I would've wanted to with a half-asleep brain. This was what I really wanted to watch and this fact made me regret watching The Producers even more... not only did I waste money, I also wasted time and braincells. I hope I get to watch it before the weekend ends.
Labels: B-days, Bookworms Anonymous, movies
|